The Owl and the Pussycat
A new opera for children based on the poem by Edward Lear. Flowstate, Festival 2018 and Little Match Productions. Directed by Bridget Boyle. At Surfers Paradise, April 5-8, 2018, then Flowstate, South Bank, April 11-15.
The festival supporting the 2018 Commonwealth Games is as full of "personal bests" as the Games themselves and the Owl and the Pussycat is a marvellous example.
Commissioned for the festival, this operatic story expands on Edward Lear's famous poem about a misfit Owl and Pussycat who find each other and despite the misgivings of their families, run away on an adventure.
With overtones of "Into the Woods" and even "Les Miserables" running through this production, our two heroes Owl (Sarah Murr) and Pussycat (Irena Lysiuk) entrance their audience - the younger half are on cushions on the floor with older kids and adults on chairs behind.
Audience participation, particularly when engaging 4-10 year olds, is essential and is scattered through the show, making everyone feel as though they are aboard the "beautiful pea-green boat".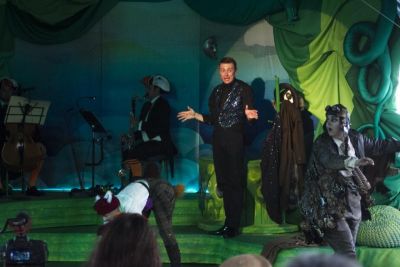 Look beneath the feathers and fur of this production and you'll find a creative gem of homegrown talent. There are 13 creatives working behind the scenes while 6 are on stage, including a three-piece Puffin band.
They may be performing to our youngest critics, but their craft is of the highest calibre. The creative designs of Penny Challen and Lisa Cheney's enchanting composition feel instantly familiar. Jackson McGovern's deftness in capturing his young audience even before the show begins pays off and the children look to him for visual cues throughout the 45 minute adventure. For drama students looking for tangible career paths after school, the team at Little Match Productions are proof that you can build a career in the arts and that teamwork is just as important as individual talent.
This show is saying it is sold out but the event is free with a capacity to take 40-50 people so any unclaimed spots will be given out before the 11am and 2pm shows. If you are at South Bank this weekend, walk past the Kodak Beach, along the arbour and you'll find Flowstate on the left.
Debra Bela