Parramatta Girls
By Alana Valentine. Director: Annette Rowlison. New Theatre (NSW). May 18 – June 11, 2011.
With eight former inmates of a notorious juvenile detention centre to cast, both indigenous and non-indigenous, Parramatta Girls digs deep into the talent pool.
Since its debut by Company B, the play has been revived just handful of times by community theatre companies, partly because of the casting challenges.
The New Theatre got over the line by drawing on an impressive ensemble, many with professional theatre credits.
The stand out was Christine Greenough. Her character of Judi was introduced into the world of prostitution at the home, but somehow she emerged to live a happy life.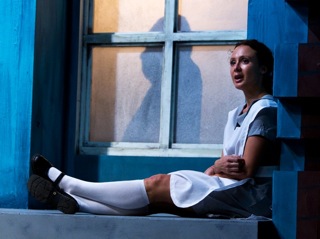 Years after leaving the institution, she recounts, with a cheeky grin, convincing a young welfare bureaucrat to give her permission to adopt a child despite having an extensive criminal record.
Parramatta Girls is full of gripping stories like this.
It starts in 2003 at a reunion and flashes back to moments of violence, abuse and terror at the Parramatta Girls Home, which was finally closed down in 1974.
Less than 7% of girls who passed through the home had actually committed a criminal offence. Being a truant, mixing in the wrong crowd or having an abuse parent could earn you time.
The play is a little on the long side and sometimes feels like a group therapy session, however there are enough moments of levity to keep it entertaining.
While some did not make it through the institution, Parramatta Girls ultimately has an uplifting message as the play focuses on those teenagers who stood up to oppression and made it through.
David Spicer
Photographer: Bob Seary.
To keep up with the latest news and reviews, like us on Facebook, or follow us on Twitter.