Parsifal
By Wagner. Opera Australia. Concert Hall, Sydney Opera House. August 9 – 14, 2017
Wagner may have been famous for synthesising all the arts into his operas, but with this concert version it's a starker affair. The singers stand in a row, the mighty chorus at the back and the Opera Australia Orchestra moves from pit to centre stage.
Here the conductor, Pinchas Steinberg, is the star.
Never mind. At nearly five and half hours (including two intervals) there's time to dream up Wagner's fraught and mystical world …and wonder how a full production would dress and dramatise Parsifal's long musical interludes and expositional storytelling. There's no chatty Italian recitative here.
Yet Steinberg proves that other Wagnerian adage that all the drama is in the music. He's exceptional at driving Wagner's imposing sweeping melodies and marches and yet always pulling back on excess to support exquisite instrumental detail – and the singers.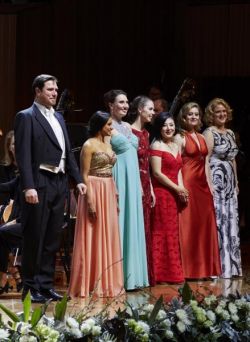 Director Hugh Halliday gives some drama and costuming detail to the line-up but essentially the singers stand and deliver (as many used to do onstage in the old days). The animation is in their faces if you're lucky enough to be that close.
Parsifal is a theological complex myth about the theft and reclamation of the Holy Grail and Spear and the guilt, sin and suffering of those desperate for its redemptive powers.
Warwick Fyfe gives full throated villainy as Klingsor whose palace gardens sprout sirens tempting noble knights from the holy search. In his spell, Michelle De Young is deeply moving as the haunted Kundry, forever doomed for her mocking of the crucified Christ.
Michael Honeyman is enigmatic as the weakened king, Amfortas and Korean bass Kwangchul Youn ennobling as his loyal Gurnemanz. The saviour, the messenger of compassion, is the young guileless fool, young Parsifal who is sung with unmannered power by Jonas Kaufmann.
The night is long and the Sydney Opera House interval catering is, as usual, inefficient, but this Wagnerian journey is a thrilling one, even without the dressing.
Martin Portus
Image: Jonas Kaufmann as Parsifal and the Opera Australia Orchestra and David Parkin as Titurel and Stacey Alleaume, Jane Ede, Anna Dowsley, Eva Kong, Julie Lea Goodwin and Dominica Matthews as Flower Maidens in Opera Australia's 2017 production of Parsifal. Photographer: Keith Saunders.