The Pass
By John Donnelly. Fixed Foot Productions. Reginald Theatre, Seymour Centre. Feb 11 – Mar 6, 2021
The Pass offers more than the now familiar tale of the elite gay footballer too terrified to come out.
Over 12 years, through three hotel rooms, we follow young Jason from the verge of international selection, later a hero manipulating others to quell gay rumours and finally, arrogant and narcissistic, a loveless puppet of his wealth and celebrity.
Ben Chapple, from the start, as a buff young footy strategist, is outstanding playing into our shifting sympathies for Jason. Crucial too is African-Australian actor Deng Deng as Ade, Jason's mate but also his competitor for a final place on the British team, someone he must bring down on the field and off.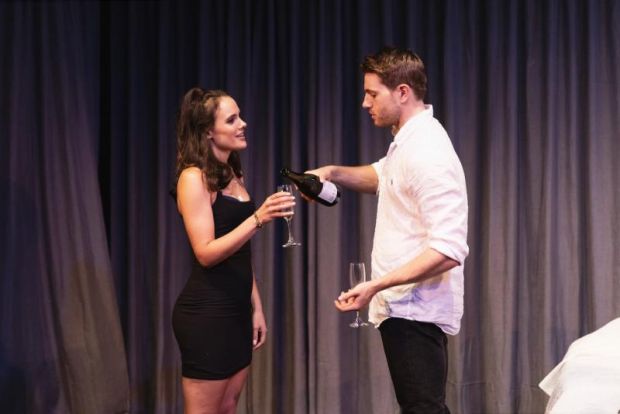 We meet the boys the night before the game, when their excited horseplay and bantering disguises an attraction finally consummated at the end of John Donnelly's long first act. The die is cast, Jason's ascendancy is assured and Ade is left behind only to return at the end when Jason wants some craven support.
Despite little sexual tension between these two actors, Ed Wightman's direction carries the play's high jinks and charades with pace and care. Cassie Howarth is spirited as the resourceful table dancer caught up in Jason's sexual deception and Tom Rodgers is hilarious as the star struck hotel staffer lost in Jason's drugged party games.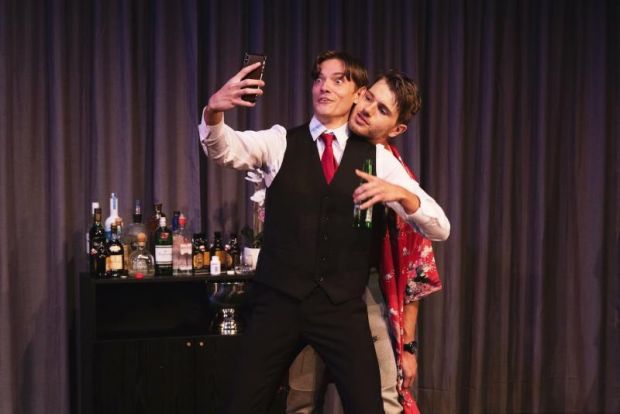 The varied British accents are all true, as is Donnelly's focus, beyond just sexuality, on issues of celebrity, class and race, all played out in Hamish Elliot's suitably anonymous hotel rooms. Donnelly overwrites but this provocative witty production holds us to the end.
Martin Portus
Photographer: Becky Matthews