Penelope
By Enda Walsh. Directed by Alister Smith. Red Stitch Theatre Company. Theatreworks, St Kilda. March 22nd – April 13th, 2013
The jury is still out on whether Irish playwright Enda Walsh is the natural successor to Samuel Beckett. Only time will tell. However, I'm happy to play judge and declare that Red Stitch is definitely guilty of being Melbourne's most cutting edge and exciting theatre company and sentence them to another two decades of doing just what they're doing now.
Walsh's play (which is in turn a black comedy, a burlesque, a tragedy, a satire on the GFC, a farce and an exhortation on humanity) is loosely borrowed from Homer's Odyssey. With Odysseus lost for many years – four suitors (all inappropriate) vie for the hand of the "widow" Penelope, shut in her "ivory tower." They do so from the bottom of a drained swimming pool which is decaying. Why a swimming pool? Perhaps it's a metaphor for a society that should be drowning, but doesn't even have the assets left to do that properly…..no water; or perhaps it's just that Walsh thinks it's bloody funny. No matter how long or how hard these men try, they are doomed, for the end is already written. When the barbeque catches fire Odysseus will return and destroy them.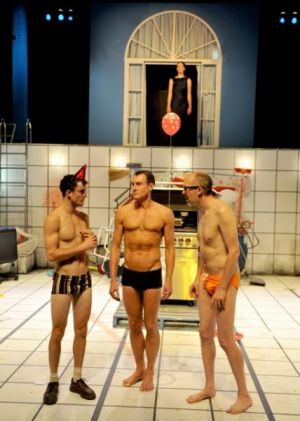 Walsh gets off on words….and there are a lot of them. Some are mellifluous, seductive and touching. Others are confronting and hilarious. A few are lack-lustre and seem superfluous. He sets his plays in real time and that negates the need for him to confront his true weakness….character development. These four men are archetypes after all, in danger of becoming stereotypes. It takes superb acting and direction to make them into living, breathing men we can identify with.
For the most part Alister Smith succeeds admirably….but I am confused by his casting of Dion Mills as Dunne. Not that Mills isn't terrific…he is. Effete to the point of high camp he's a commanding presence whose image alone tells us he is courting Penelope for power and status, not for any lustful reason. His narcissism is palpable. However, he's also a remarkable physical specimen, toned, tanned and terrific in all respects. Walsh's Dunne is written (and generally played) as an overweight and out of shape profligate supporting a paunch (there are even lines in the text referring to his stomach getting in the way). It's either brave or foolish casting against type, but there's no denying Mills is superb in his interpretation. Lyall Brooks as Quinn (I'm sure Walsh is familiar with the Manfred Mann song The Mighty Quinn) is the perfect Alpha male, a bully who can't stand not having his own way. He threatens, he uses stand-over tactics, he even drives competitors to suicide. He's as nasty as they come and will do anything to serve his needs. Brooks nails it on every level, and when the play has him resort to burlesque… dressing up for a pantomime performance which has us muttering "WTF?"… he's also very funny. It's not surprising….Brooks is an astonishingly versatile actor who seems able to do everything from animation voice-overs to Sondheim with the Victorian Opera. He impresses in everything he does, and Penelope is no exception. The wonderfully subtle and jaded (and slightly drug-fogged) intellectual Fitz is given gravitas by the beautiful acting of James Wardlaw. He inhabits Fitz's skin perfectly and is the only character we can truly connect with. We're in good company as Penelope connects with him too. His speech to win her, which becomes a heartfelt declaration of the need in all of us to love and be loved, is both beautifully written and superbly acted. Matthew Whitty is very promising as Burns, but lacks the assurance that vast experience brings. That will change in time and it won't be that often that he has to contend with three such superb performances all at the same time. Rosie Lockhart is beautiful, serene, and suitably detached in what little she has to do, but one can understand why any man would want her. Peter Mumford once again excels with his set design and Linda Hum's lighting is excellent as always.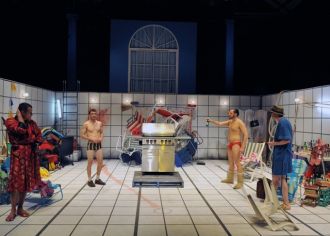 This isn't a play that everyone will warm to (my husband, whose birthday it was, hated it). Like Beckett, Walsh is an acquired taste – seemingly undisciplined and scatter-logical one moment, and classically lyrical the next. But there is no denying that Walsh is an important voice for the 21st century. What does it all mean? Who cares? It's exciting to see Red Stitch in a larger venue, outside of their little burrow. Let's face it, it's exciting to see Red Stitch anywhere.
Coral Drouyn
Images: (top) Dion Mills, Matthew Whitty & Lyall Brooks; (middle) Matthew Whitty, Dion Mills, Rosie Lockhart & James Wardlaw and (lower) Dion Mills, Matthew Whitty, Lyall Brooks & James Wardlaw.