Penelope
By Enda Walsh. Siren Theatre Company. Tap Gallery Theatre, Darlinghurst (NSW). September 12 – October 6, 2013.
Siren Theatre Company's new offering Penelope is an incredibly fresh, energetic and a perfectly realised piece of theatre.
Kate Gaul's company which previously triumphed with The New Electric Ballroom (Griffin Independent), also penned by Irish playwright Enda Walsh, has done it again.
Based on the last chapter of Homer's The Odyssey, Walsh's script is full of poetry, tragedy, vaudevillian slapstick comedy and what can only be seen as the downright futility of life.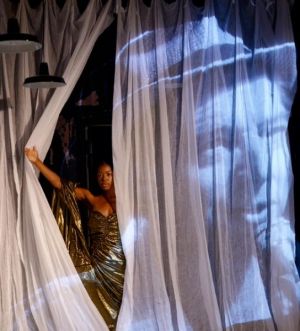 One of the most striking elements - aside from the show itself - is the way that Gaul and Co-Designer Tom Bannerman have interpreted The Tap Gallery Theatre. This is a challenging space for any theatre-maker and in this production it has been completely transformed into another world - which in this case is an empty swimming pool. This space is the perfect choice for such a show because the audience is a part of it rather than being spectators. It feels a bit like an environmental piece of theatre (and I'm not talking climate change - look it up if you have to).
The cast is simply spectacular. The four men played by Nicolas Hope, Thomas Campbell, Philip Dodd and Arky Michael are a ragged bunch of loons thrown together through circumstance and slowly being driven crazy by the heavily looming prospect of death. We see them act like clowns, poets and gods. They kick, scream and cry as they try to make sense of life at the desolate bottom of the empty swimming pool. It is absurdity at its best. Branden Christine as Penelope is well cast as the inaccessible prize.
The sound design by Daryl Wallis is the sixth cast member in this production and it too is fabulous - taking the audience on a rollicking good time, through to pathos and suspense and back again.
Penelopeis real, in your face, wonderful theatre - don't miss it.
Whitney Fitzsimmons
Images: Thomas Campbell and Phillip Dodd & Branden Christine. Photographer: Kathy Luu.