Perve
By Stacey Gregg. Centenary Theatre Group (Qld). 5-26 May, 2012.
This is a coup for CTG ─ the world amateur première of Perve, which opened at the Abbey Theatre, Dublin in May 2011.
A highly charged piece, it is a cautionary tale for every young adult – or, in fact, for anyone with a computer. It captures our modern lifestyle, in particular our obsession with sex and more specifically the hysteria surrounding any whiff of paedophilia.
Gethin has just completed his Diploma in Film Making and is anxious to take the world by storm with a film of some substance. His home town is festering with rumours about a paedophile in its midst, and the locals have graffitied his home. Gethin films the result and believes he caught a glimpse of the rogue at a window.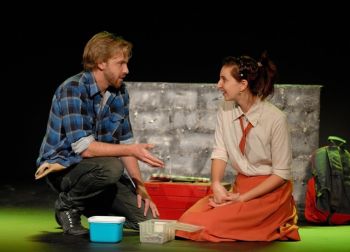 A concept strikes him: a film about the way such an issue affects a whole community. His fascination with the topic ends up embroiling his family and friends in a major police investigation.
Director John Boyce assembled a splendid cast of seven and they have done a slick professional job of it. Special kudos to the lighting designer Elliot Price. Apart from Jason Nash as Gethin, it would be unfair to single out any of the other actors – every one a star.
It's thought-provoking stuff. I left the theatre emotionally wrung out.
Jay McKee