The Phantom of the Opera
By Andrew Lloyd Webber, Charles Hart and Richard Stilgoe. Free Rain Company. Producer: Anne Somes. Associate Producer: Chris Neal. Director: David Harmon. Canberra Theatre, ACT. August 9 – 18, 2013
Why do theatre patrons love to see The Phantom of the Opera even after so many years? Is it for the spectacle? The much-loved songs? The orchestral score heard live? The romance and emotion? All these were present at Free Rain's production of this musical, a first for Canberra.
Directed by David Harmon, this is a vigorous, bustling interpretation, with moments of stillness where appropriate. The director has brought his own vision to this musical rather than repeating previous productions scene by scene. Jacquelyn Richards' choreography was fun and full of character, letting each dancer of the corps show her own personality. Ian McLean's musical direction was, as ever, sound and assured, and kudos to the musicians.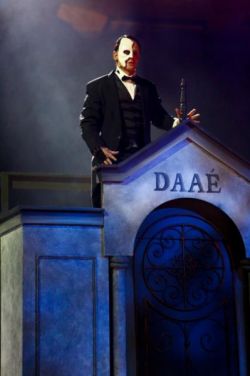 Julie Lea Goodwin played the part of Christine Daáe with grace and charm. Michael Cormick was suitably menacing as the Phantom, particularly during the showstopper "The Phantom of the Opera". David Pearson played the part of Raoul and his duets with Miss Goodwin, particularly "All I Ask of You", were enchanting. Christine Wallace played the part of Carlotta Giudicelli, showing vocal and dramatic fireworks. Michael Moore as Monsieur Firmin and Tony Falla as Monsieur Andre were assured and amusing and the ensemble piece "Notes/Prima Donna" worked well musically.
There were times during the first act where singers' lower registers were hard to hear through the sound mix, but this improved during the show. The theatrical fog was excessively applied, although one could understand the effect that was sought. Other special effects enhanced the show without overpowering the narrative and emotion.
The team is to be commended for smart ensemble work. Design and costumes were delightful, presenting a giddy array of colours and styles for the different operatic works. The New Year's Eve masquerade was especially impressive for its movement and colour.
Rachel McGrath-Kerr
Images (from top): Julie Lea Goodwin with ballet ensemble; Michael Cormick as Phantom on top of grave; Masquerade, and the raising of the chandelier. Photographer: Craig Burgess.