The Phantom of the Opera
Music: Andrew Lloyd Webber. Lyrics: Charles Hart. Additional Lyrics: Richard Stilgoe. Book: Richard Stilgoe & Andrew Lloyd Webber. Based on the novel by Gaston Leroux. Director: Nick Morris. Stage Director: Laurence Connor. Choreographer: Gillian Lynne. Conductor: Anthony Inglis. Royal Albert Hall, London, 1-2 Oct, 2011. Screened free on April 18 and 19 on The Shows Must Go On YouTube Channel.
Last weekend over 11 million people around the world watched The Phantom of the Opera when it was available for screening for free on YouTube channel "The Shows Must Go On". From 4AM Saturday 18 April it was available for a limited 48-hour period. The channel had previously shown Lloyd Webber's Jesus Christ Superstar and Joseph and the Amazing Technicolor Dreamcoat, which both pulled over 2 million viewers.
To mark the extraordinary milestone of 25 years running in London, Cameron Mackintosh and Andrew Lloyd Webber planned a special 3-day production, and inspired by the original staging of Harold Prince and Gillian Lynne, the musical was restaged at the Royal Albert Hall in October 2011.
It was a daunting task for designer Matt Kinley. Re-conceiving a proscenium show for a concert hall was not without its problems, but the finished result was a tremendous success.
Viewing it nine years later takes me back to the first time I saw the show. It was in London at Her Majesty's Theatre on the last preview performance - 15 October 1986. Sarah Brightman was off and her substitute was Claire Moore. Sitting directly under where the chandelier fell in the stalls, I was blown away by the theatricality and grandeur of the production and reveled in the score and the voices. At last musical theatre was "singing" again with some stunning vocals.
Up the road at the Palace where "Les Miz" was playing was no different – thrilling voices. The next day I was in Tower Records in Piccadilly Circus and they were playing Cliff Richard and Sarah Brightman's version of "All I Ask of You" and I couldn't believe it was sitting at Number 3 on the charts. Suddenly musical theatre was popular again. To hear 'real' voices in the theatre again was a joy.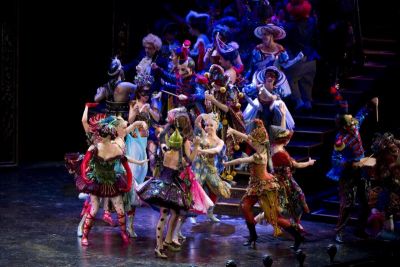 "Non-singing" actors were non-persona gratis in this new landscape. No more suffering through Katherine Hepburn in Coco, Lauren Bacall in Applause, or Judi Dench in Cabaret, no matter how good their acting performances were. In 42nd Street Julian Marsh described Musical Theatre as 'the most glorious words in the English language', and suddenly it was "musical" again.
And did the London critics go overboard on the opening? Not exactly but all acknowledged it was Lloyd Webber's best score, Maria Bjornson had done a magnificent job of the production design, and Harold Prince's direction was some of his best in years. Who would have thought we were witnessing a show that would go on to become the longest running musical in Broadway history, grossing over 6 billion at the box office world-wide.
Ramin Karimloo and Sierra Boggess play the Phantom and Christine respectively and they're perfect. Karimloo, no stranger to the role having played it on Broadway and in London, brings searing pathos to the role, whilst Boggess, also a London and Broadway alumni, is creamy and warm in her vocals and has an upper register to die for. He scores with a dynamic "The Music Of The Night", she with a ravishing "Wishing You Were somehow Here Again". Together they blend beautifully in their duet "Point of No Return".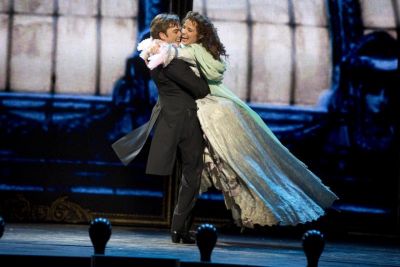 Hadley Fraser as (the wimpy) Raoul brings some classy vocal chops to the part, and of course gets to sing the show's iconic duet with Boggess, "All I Ask Of You". It's musical theatre at its most romantic. Barry James (Firmin) and Gareth Snook (Andre) get maximum laughs out of the "Notes" sequence, Wendy Ferguson is a spitfire as Carlotta, whilst Liz Robertson's Madame Giry appropriately has ice in her veins.
The six-part harmony of "Prima Donna" is a showstopper, and as a piece of composition is almost on a par with the quartet from West Side Story, "Masquerade" is a visually and exciting costumed treat, and the finale, when Christine kisses the Phantom without his mask, is breathtakingly emotional.
The Grand Finale featured Lloyd Webber introducing the Royal Albert Hall creative team, the original leads from London and Broadway, and the original Christine and Phantom, Sarah Brightman and Michael Crawford. Brightman then sang the title song with four Phantoms from around the world - Anthony Warlow, Colm Wilkinson, Peter Jobeck and John Owen-Jones, before Karimloo joined the other four Phantoms to sing "The Music of The Night".
Some effects of the original had to be toned down for the venue, for instance the chandelier didn't fall but exploded. Anthony Inglis conducted an orchestra of over 200, which sounded simply magnificent, and kudos should go to the technical crew and cameramen who captured it all superbly.
Peter Pinne