Picaresque
Adelaide Festival. World Premiere. Banquet Room, Adelaide Festival Centre. March 8-17, 2019.
Picaresque is as delightful, surprising and satisfying as an exquisite pop-up picture book.
This show, a combination of reminiscences, song, piano accordion music and installation, represents Robyn Archer's memories of the travelling she has done since leaving Australia for the first time, aged 29 years.
The audience is met on arrival by an installation consisting of what at first appears to be a gorgeously detailed, miniature city of beautifully crafted buildings, set out on tables and softly enhanced by trailing beads of light. Closer inspection reveals this is not a city, but a collection of cardboard architectural models of iconic buildings from all over the world- the Sydney Opera House, Paris's Eiffel Tower and Arc de Triomphe, a mosque in Budapest, a towering New York spire and many more. We instantly recognise the 'onion' tops of a Russian building and the uniquely 'Japanese-temple' shape of another, but it is the stories behind these structures we have come to hear.
With the audience seated in a crescent around the installation, Robyn Archer strides in singing, through the same door the audience entered by. She is accompanied by virtuoso accordionist George Butrumlis. They are obviously great friends and are already having fun. Before long, we are part of this intimate, inclusive atmosphere as we experience Robyn Archer's casually friendly and cheery inclusion of us in her story and memories, just as if we are family.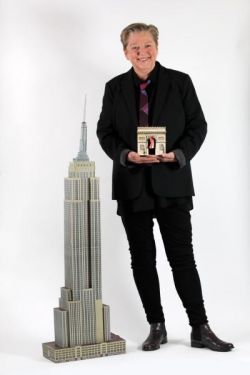 Much of the time, Archer walks among the buildings of the installation and is therefore on the same level as the audience, making this an intimate experience. As she sings, reminisces and plays guitar and ukulele, we learn the buildings are her own, collected as flat packs on her travels. They have been stored away, but somehow, she explains, she lost The Parthenon and The Taj Mahal! Much laughter. Such architectural models were not the only items collected by Archer on her journeys though; she also has large numbers of boarding passes, baggage stubs, train tickets and hotel items from all over the world.
The many songs Archer sings are as varied in genre as the buildings she walks among. Some are well-known, others not, but each is topical to one of her travel destinations. She begins with "Underneath the Arches", as she tells us of the time, at aged 29, when she first travelled overseas; to London and the National Theatre. There are amusing tales, insightful comments and dark memories, including that her first trip to New York was coloured by arriving only a very short time after the killing of John Lennon.
We are challenged in our possible prejudice towards the accordion as a sophisticated instrument, with George Butrumlis's very fine playing as he accompanies Archer, even including the fine nuances of a classical solo by him. His persona is relaxed, jolly, often teasing of Archer and very much an important part of this unique event, which has been produced by Anne Wiberg and designed by Geoff Cobham. The exhibition/installation of Archer's collectibles is also a separate Adelaide Festival event in its own right, designed by Wendy Todd-see Festival program.
Closing with a rapid-paced marathon medley made up from American songs, Archer increases in enthusiasm and zest for more stories, until her accompanist must jokingly 'remind' her that perhaps we have other shows to attend. Picaresque lasts a little over 1 hour; most of us, I am sure, would love more and are as reluctant to leave as Archer appears to be.
To illustrate the casual atmosphere, just as when they arrived, Archer and Butrumlis leave by the same door we do and remain nearby to chat and sign programs.
Picaresque leaves one feeling uplifted and happy, just as an intimate family gathering of fun, music and stories can do. Illustrated by the installation and by music from her own world songbook, Archer's stories create pictures in our minds; thoughts of our own travels and further imaginations of hers, enough to keep one remembering this very special show well after we leave.
Don't miss Picaresque. You'll be piqued if you do.
Lesley Reed