The Picture of Dorian Gray
By Oscar Wilde. Adapted and directed by Kip Williams. Sydney Theatre Company. Roslyn Packer Theatre. Nov 25 – Dec 19, 2020
Just as Sydney theatre capacities have been lifted, arrives this perfectly timed brilliant production, which is up there with anything audiences have enjoyed streaming from the finest companies in the world.
It began simply enough, with a bare stage and a single screen which Eryn Jean Norvill (the only actor in the production) was projected up onto, from a live broadcast.
The initial straightforward monologue was pleasant enough, as we focused on the fine porcelain features of her face and those deep expressive eyes.
The opening staged reading lulled the audience into the sense that perhaps this was going to be a sparse production, made for the difficulties of 2020.
But soon a second, third, fourth and fifth screen descended and live Eryn interacted with 'pre-recorded Eryn playing different characters. More camera crews arrived shooting from different angles.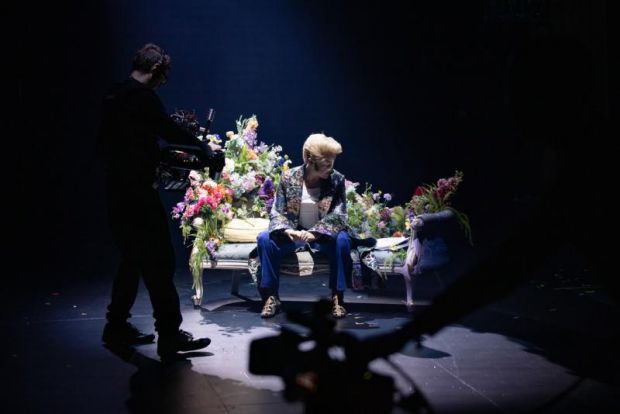 There was a dizzy kaleidoscope of choreography with screens, sets and costumes. Just one of the highlights was a dinner party where live Eryn sits at the end of a table and has a razor-sharp repartee with a smorgasbord of eccentric characters.
Another was a close-up of a production of Romeo and Juliet beamed onto the big screens from a Punch and Judy sized model box.
Any audience awkwardness, from having to wear a mask during a two-hour production with no interval, was swept away by the mesmerizing performance we witnessed and mastery of 26 characters.
The novel by Oscar Wilde was a neat fit for Director Kip Williams, who mercifully did not need to reinterpret the narrative for any 21st century hobby horses, but allowed the original text and author's intentions to be beautifully packaged for audiences used to consuming screen wizardry.
The issues of infatuation with youth, extreme vanity, murder and same sex crushes are still engaging 130 years after the book was first written.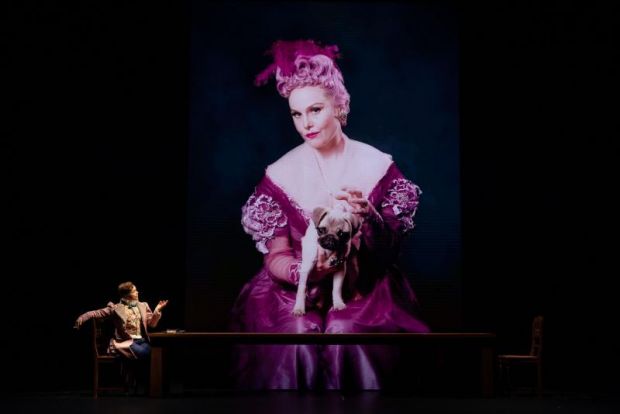 At the curtain call, the busy on-stage crew of 12 joined Eryn for a deserved ovation. Not seen but well appreciated were the fine creatives behind the scenes, from the delicious costumes designed by Marg Horwell, crisp sound by Clemence Williams and sharp lighting from Nick Schlieper which focussed on the cheeky and fresh videography of David Bergman.
A fine portrait of a production.
David Spicer
Photographer: Dan Boud