Pictures at an Exhibition
Written by Mussorgsky. Arrangement by Ravel. Conducted by Benjamin Northey. Presented by Queensland Symphony Orchestra. QPAC Concert Hall. 30 April – 1 May, 2021
One of the most powerful things about music is its ability to strike hard at your emotional core. It is a language without words, that inexplicably elicits feelings and sparks visualisations and memories. Queensland Symphony Orchestra's performance of Pictures at an Exhibition could move even the hardest of hearts and most stoic of countenances.
The show begins with Conductor Benjamin Northey leading the orchestra in a rendition of Rimsky-Korsakov's Overture from May Night. It begins as a delicate and romantic combination of woodwind and cello. The spaces between the notes build the drama and slowly the emotion changes to tense and heroic. Around two and a half minutes into the performance, what had begun languidly turns into a swift, full and animated drama.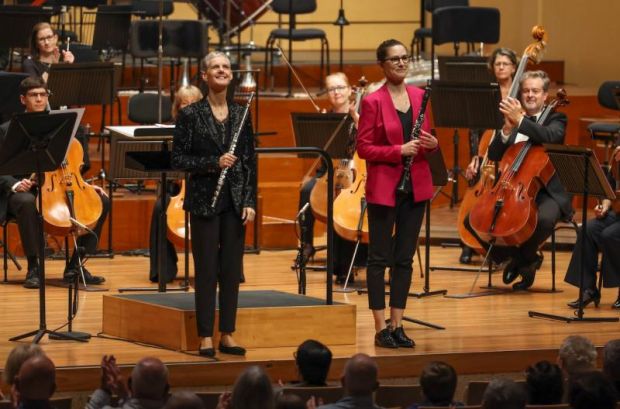 The emotional rollercoaster continues with soloists Alison Mitchell (Flute) and Irit Silver (Clarinet) starring in the world premiere of Gordon Kerry' Sinfonia Concertante for Flute, Clarinet and Orchestra. The work was commissioned by the late Marena Manzoufas, who gave the composer full reign to create whatever he wished. Perhaps intentionally, perhaps not, there is a poignancy to the opening of this work that captures the feeling of loss you have when a loved one passes. Kerry's work allows the soloists space to shine, with orchestral accompaniment specifically composed to support without overshadowing.
QSO are the beneficiaries of Modest Petrovich Mussorgsky's Pictures at an Exhibition which was composed to immortalise the memory of his friend and artist Viktor Hartmann. The suite is a musical interpretation of several of Hartmann's visual artworks and how they affect the viewer. It's a wonderful way to complete this emotive and dramatic show. Right from the start when the brass blasts you're captivated by its spirit. The orchestra attack the entire work with gusto. Everyone delivers their A-game, much to the delight of Conductor Benjamin Northey and the Concert Hall audience. As orchestral performances go, it doesn't get much more thrilling than this.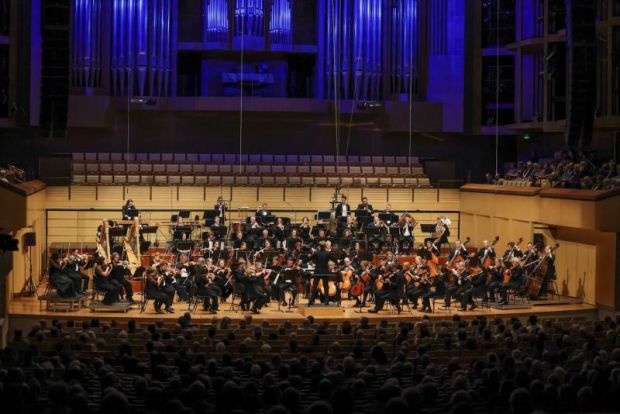 If you'd like to hear this concert, tune in to ABC Classic on May 8th at 1pm AEST.
Kitty Goodall
Images (from top): Conductor Benjamin Northey, foreground L-R Alison Mitchell and Irit Silver, and Queensland Symphony Orchestra.