Pigalle and Rock Bang
David Spicer reviews Cabaret and Circus at Sydney Festival 2019
Pigalle
Sydney Festival
Hyde Park
Jan 8 – 27, 2019
Looking impossibly young, Marcia Hines strode out onto the cat walk, inside the beautifully lit Spiegeltent, with a gentle number to warm the crowd up.
This new show follows hot on the heels of the Disco Queen's 70's cabaret circus Velvet. Instead of being set in New York, this production is named after the Paris night-time Quartier Pigalle.
After a slow introduction, one beautiful and dexterous artist after another picks up the pace. There was lots to feast upon.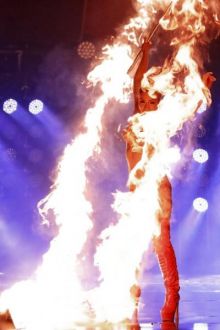 Bangarra dancer Waangenga Blanco had an intriguing choreography of sudden stilted movements before he sprayed those in the front row of the audience with the sweat of his svelte torso.
Aerialists Hugo Desmaris and Yammel Rodriguez spun so fast on a hoop that it was difficult to comprehend how they could still stand after they hopped off.
iOTA – a favourite of the Spiegeltent – had a more low key presence that he has in past years in the Magic Mirrors setting.
Blowing the cabaret away was Kitty Bang Bang (aka Kathryn Louise McLoughlin) , a fire artist acrobat. Her fire eating, fire playing strip tease was sensational. How do you play with fire with few clothes on?
Finally Marcia got the crowd on its feet with a rendition of "You Should be Dancing" by the Bee Gees and "Disco Inferno" accompanied by two fleet footed hoofers.
It was a cool and sexy night out.
Rock Bang
Circus Oz
Riverside Theatre until January 10 – 13, 2019
The next night I ventured to the Sydney Festival's second major hub this year – The Parramatta Riverside Theatre for a different flavoured cabaret circus.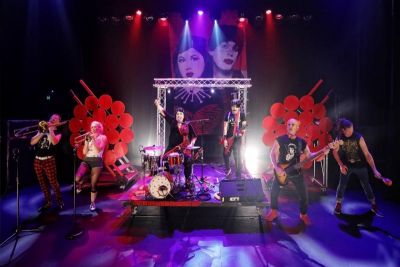 Rock Bang is a collaboration between Circus Oz and Otto & Astrid from Die Roten Punkte. The music was decidedly more of the head banging variety than Pigalle, with a metal clanging hard rock sound.
The clown cabaret devised by Clare Bartholomew and Daniel Tobas has been "touring around the world" since 2006 according to the show's publicist.
There are some gentle laughs and mildly dangerous looking swinging out over the audience, spiced up with a naughty light show behind a white sheet which will amuse the adults and sail over the heads of children.
The rollicking antics were warmly received, but did not live up to the hype promised of "death-defying stunts".
David Spicer
Photographer: Prudence Upton.