The Pillowman
By Martin McDonagh. New Theatre (Newtown, NSW). March 19 – April 13, 2013.
Half thriller, half comic Kafkaesque nightmare, this thoughtful play is from Irish writer Martin McDonagh. Thankfully it doesn't start in the usual Irish pub!
We begin instead in an unspecified police state where a short story writer is being interrogated by two cops, one laconic, the other violent and vengeful. As his mentally retarded brother is tortured in an adjoining cell, Katurian discovers why the cops are so edgy: a series of local murders and torturing of children have been copied from his own grim stories.
A thriller pace drives the discovery of who did these foul deeds, but also the playing out of the stories which inspired them, and other tales dramatising the curious bond linking the two brothers. Soon everyone is telling stories, fact or fiction; even the cops. While McDonagh is writing about the freedom and accountability of the artist, he is also dramatising our inherent compulsion to tell tales, to make some metaphor from our lives or just simply spin a yarn.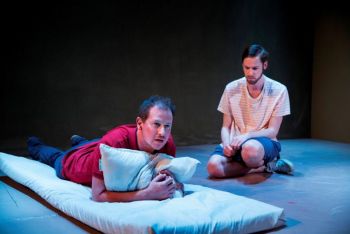 McDonagh's genius is drive his play to its final countdown but also rivet our attention onto these often tangential stories. The staging of them by director Luke Rogers with supporting actors behind a central scrim is artfully done. Oliver Wenn also brings an everyman normality to the vital role of Katurian and Michael Howlett excels as his wounded brother. Once the shouting has settled, Peter McAllum and Jeremy Waters as the cops are also convincing.
Impressively staged, The Pillowman is a theatrical gem of play which makes best use of its form and keeps resonating.
Martin Portus
Photographer: Bob Seary.