The Pillowman
By Martin McDonagh. Patalog Collective. Chapel off Chapel. 22 – 27 May 2018.
Horror can have an inescapable fascination; cleverness and humour can be irresistible; and story twists can be riveting. Such are elements of The Pillowman, a seductive work of Martin McDonagh's very individual imagination.
Katurian K Katurian (Ben Walter) is an abattoir worker and the writer of four hundred short stories, all but two depicting the bizarre torture and murder of children. Now he is under arrest because a series of child murders appear to be stimulated by - or re-enactments of - his stories. Interrogated – and threatened – by 'good cop' Tupolski (Tom Jones) and 'bad cop' Ariel (Mark Yeates), Katurian denies all. He's just a storyteller whose job is to tell stories. Then he learns that his mentally disabled brother, Michal (Marcus Molyneux) is in the next cell – and hears his screams…
This award winning (Olivier Award, Best New Play 2004; New York Critics' Circle Award, Best New Foreign Play 2004-5) 2003 play shows Mr McDonagh at his blackest and bleakest. It is also characteristic of his work (including the over-rated Three Billboards Outside Ebbing, Missouri) in being rather too much in love with his own smarty-pants cleverness. Anything for a gag and then milk the gag dry.
The 'point' of The Pillowman – insofar as there is one – is the importance of telling stories. Each of the characters is a storyteller – each in his own way – but Katurian is prepared to confess to any crime and even to die himself as long as his stories survive him. Some of these stories are told as monologues, assisted by a Storyteller (Lexi Kelsall), and one – 'Little Jesus' - has slides projected on the rear wall – slides that have all the more chilling impact through being only glimpsed.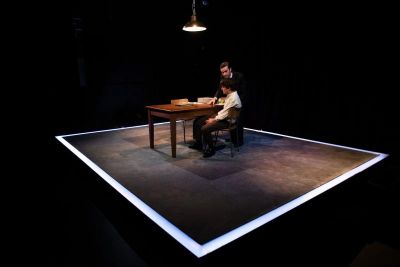 The flaw in the premise here is that Katurian's stories are gratuitously nasty, having not much point beyond cruelty and horror. Only the 'Little Jesus' story has some inevitability and point. The story of the Pillowman - which gives the play its title – is about a creature made of pillows (the metaphor is tenuous) who induces children – in a caring way – to commit suicide so as to escape the horrors that lie ahead in their lives.
Whatever reservations I may have about this play, there is no doubt that the audience is seduced. The situation and its unravelling is intriguing. And it offers fabulous opportunities for actors. It's interesting that I could remember a young Joel Edgerton in a production of this play from many years ago – remember him, but not the play.
In any case, the Patalong Collective cast rise to the challenge admirably and grasp it with both hands. Every one of them delivers a nuanced, layered performance with a sharp awareness of the inherent comedy (though always played absolutely straight), of the bizarre nature of the play's world (played as if this nightmare were normal), and of each character's underlying motive (believable or not).
Lexi Kelsall is really too old – and tall – for her surprise reveal character – but her mimes of Katurian's stories as the Storyteller are elegantly and eloquently done. Mark Yeates' Ariel is genuinely frightening, but when his 'backstory' is revealed, Mr Yeates' gives the character a confusion and embarrassment that is wholly convincing. He almost gets away with the maudlin vision of Ariel's future with which Mr McDonagh (he can't help himself) lumbers the character. Tom Jones' 'good cop' Tupolski is smarter than his colleague, but – not being driven by righteous anger – is more of a detached sadist. Mr Jones' comic timing hits every note given him, and his spidery bonhomie - that acquires more and more nasty edge as the play proceeds - makes the skin crawl.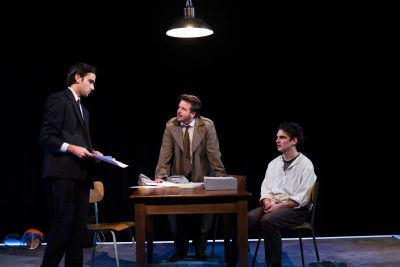 Katurian's brother, Michal, as played by Marcus Molyneux, takes the play into its most blackly comic but also most touching realm. His mental disability results in a kind of literal-mindedness – which many in my audience seemed to find hil-ar-ious – but also an overwhelming need for comfort and approval. But is his reason for what he has endured plausible? No, but that's the text. Perhaps Katurian himself is the most difficult role of all, but Ben Walter makes the implausible plausible. He conveys fear and arrogance at the same time. Katurian's position – past and present – makes no rational sense, but Mr Walter makes us believe that that position is emotionally real for Katurian. (Mr Walter is also the producer: he's selected a great showcase for his considerable abilities.)
Director Vincent Attanasio has a big future; he paces his cast with great skill so that the tension – provided you invest in the story – rarely slackens. The high quality of the acting here is matched by the simple set by Dann Barber, lighting design by Caitlyn Staples and sound design by Finn Langham: all their work never distracting from the performances.
The Pillowman is a playful play – despite the subject matter - but what's underneath the playful – that is, what Mr McDonagh has to say – doesn't bear too much scrutiny. Put that aside, if you can, and appreciate and admire what this young company has made of it: great production, direction and performances. This is Patalog's second production. I look forward to the next one.
Michael Brindley