Pinocchio
Created by Rosemary Myers with writer Julianne O'Brien. Sydney Theatre Company and Sydney Opera House present a Production by the Windmill Theatre and the State Theatre Company of South Australia. Director: Rosemary Myers. Playhouse Theatre, Sydney Opera House. 11 April – 4 May 2014
The much loved, much reworked 1882 adventures of Pinocchio, the naughty, fib-telling wooden puppet, gets a mainstage Easter holiday season at the Playhouse. Parents, beware — this is not your regular, cozy, one-act theatre treat for 'kids of all ages'. This is a full-length, high-volume update, 'recommended for ages 7+', but likely to be best appreciated by sophisticated teens.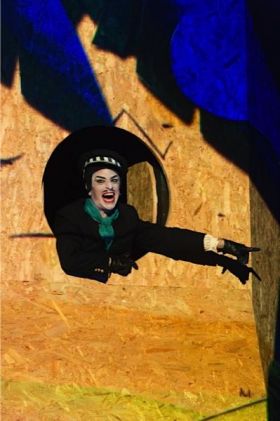 Though there are pantomime moments and some eagerly-accepted audience participation, younger children may be baffled when our willful hero's quest for personal development leads him to stardom in the evil Stromboli's television reality show. It's a lengthy, rambling tale without an obvious take-home 'message', not to my young companions, anyway.
What is certain, however, is the brilliance of the design and presentation of the show. After seasons in Adelaide and Melbourne, Rosemary Myers' production is smoothly terrific, on a merrily revolving set by Jonathon Oxlade that acts as the screen for video projections of the highest quality by Chris More.
More's bright, unsettling concepts keep the action moving — from puppet-maker Geppetto's urban workshop to landscapes and seascapes of real beauty and creepiness. As lit by Geoff Cobham, these stage pictures should not be missed by those interested in modern stage design.
The hard-working cast of eight is lead by Nathan O'Keefe as an appealing Pinocchio. All tackle the rock-based songs of Jethro Woodward with a will, though his lyrics are too often lost in the sound mix.
Frank Hatherley
Images: Nathan O'Keefe (top) and Paul Capsis (lower) in Windmill Theatre's Pinocchio.
Photographer: Brett Boardman.