The Pirates of Penzance
Gilbert and Sullivan. Directed by Adam Salathial. Phoenix Theatre at Memorial Hall, Hamilton Hill, WA. July 5-20, 2013
Laughing Horse Productions and Phoenix Theatre's co-production of The Pirates of Penzance was one of the most fun productions I have seen in a while.
While the skill levels of the cast vary enormously and frankly some aspects of the show are not really up to scratch, it is one of the quirkiest interpretations of Pirates I have seen, has a beautiful spirit and has some truly brilliant moments.
Many of the key roles are excellent. Peter 'Pear' Carr plays The Pirate King as if it was written for him. His multiple reprises of 'With Cat Like Tread' (getting faster yet more flamboyant each time), with dance partners Mark Thompson and Sam Barnett were stunning.
Mark Thompson and sixteen-year-old Shania Eliassen, in her first leading role, were a lovely Frederick and Mabel. Both delivered earnestly sincere performances and Shania's sweet soprano is simply awesome.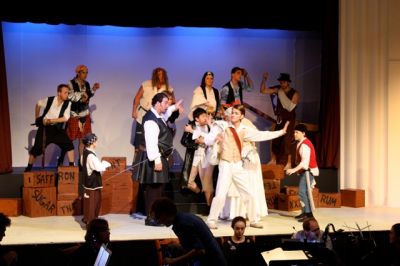 Paul Treasure's Major General was excellent and his final verse of Modern Major General was probably the fastest I have heard and with exquisite clarity. The audience loved his teddy bear toting nightgown appearance.
There were some lovely special touches within the ensemble. Christopher Doney's kilt-clad pirate was high-heeled and campy - and he was in the moment at every appearance. The two young cabin boys in the pirate crew (Olivia Goud and Jayden Timms) were delightful and used to great effect.
Conductor Krispin Maesalu's orchestra was of the highest standard and his interactions with the cast and crew appeared natural and spontaneous.
This show has excellent front-of -house displays, beautifully costumed front-line staff and very funny character ushering.
Other aspects of the show do not match up to this standard. Ensemble singing isn't always strong and the police scenes, with their predominantly female policemen, simply do not work musically or choreographically.
Despite some shortcomings, I highly recommend grabbing a seat to this show. It is tremendous fun, has a beautiful heart and its high points are worth the price of admission.
Kimberley Shaw