Pirates of Penzance
By Gilbert and Sullivan (adapted by Trevor Patient and Chris Cox). Platinum Entertainment. Directed by Katrina Patient and Trevor Patient, Musical Direction by Chris Cox. Quarry Amphitheatre, City Beach WA. Mar 12-22, 2020
Platinum Entertainment's production of Pirates of Penzance is one of their best shows to date, but has been plagued by some terrible timing, opening at the emergence of concerns about Coronavirus, and also coinciding with some inclement weather - such a shame as this vibrant and fun production is a great antidote to the current gloom.
The Quarry Amphitheatre seats 557, and while under normal circumstances this would be getting full houses - attendances are greatly reduced, meaning you can choose to sit well away from other people. The rows at the quarry are very well spaced, meaning that there is some natural social distancing built into the design. Hand sanitser and insect repellant is available as you enter.
It is clear from the outset that this will be a big pop version of Pirates, with a fabulous industrial, stadium-feel pirate ship catching the audience's attention as you enter the amphitheatre. Add the large number of people on stage - 67 cast members and a four piece rock band - this show has a large event feel (if not the crowds it deserves).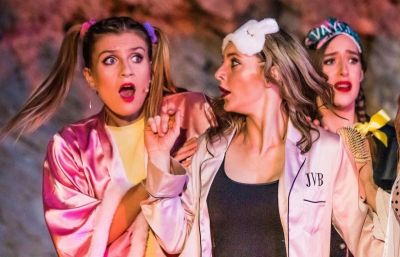 Ryan Dawson leads the cast as a funny, likeable, larrikenesque Pirate King. He works well alongside Leesa Steele, who is a larger-than-lfe and loveable Ruth, and Ash Scofield, who makes a great entrance and continues to have great fun as Samuel.
Leading man Frederic is played by Nicholas Cruse, who has rather co-incidentally recently returned from several years living and performing on ships (though presumably not of the pirate persuasion).With rockstar good looks and superb vocals, he is a worthy young hero, but also shows some awesome acrobatic skills and some comic chops. He is nicely paired with Charlotte Louise, who blends 1879 sweet voiced ingenue with independent, modern ideas as Mabel.
Good camaraderie from the contemporarily dressed pirate crew, who have a great sense of fun, and bring great energy.
The twenty daughters of the Modern Major General look like they might be contestants on Love Island or have stepped away from the pool on The Bachelor (great colour palette and modern costuming by Katrina Patient ), but their instagrammable vibe is matched by wonderful voices, with some excellent dancers showing off the best of Una Genuino's fun choreography. The sisters are led by Hayleigh French-Bluhm (Edith), Vanessa Hince (Kate) and Tori Brown (Isobel). Their father is played with a lovely nod and a wink by Jamie Mercanti - whose "I am the Very Model of a Modern Major General" takes on a rap feel.
A very unique interpretation of the chorus of police, who are led by Andrew Milner as the Sergeant, with his lovely bass tones. These police are a SWAT team, armed with Nerf Guns (and a light sabre). Fabulously unlikely policemen, the casting of men's singing ensemble Vocal Evolution (directed by Ash Scholfield) in these roles is a great choice, and their acapella presentation of "When a Felon's Not Engaged in His Employment" (aka The Policeman's Song) - was a highlight.
Lots of little contemporary jokes - including a little stab at Covid19 Virus, add to the fun, in a production where there have been some liberties taken with the feel of the music - most of which work very well. The updates serve as a reminder of the cleverness and timelessness of the original work.
If you are still out and about in the week ahead, you can see this well modernised classic under as safe circumstances as possible. I wish them all the best for the run.
Kimberley Shaw