Playhouse Creatures
By April De Angelis. Javeenbah Theatre Company, Nerang. Directed by Kaela Gray. July 16 – 31, 2021.
It is more than 20 years since I last saw April de Angelis' all female play about the very first actresses in London's 17th century Restoration period. Brash and bawdy, the play is set in a playhouse that was formerly a bear pit. Its feminist message shows that, for women in any time period, freedom is mythological – there's always a man somewhere pulling the strings and deciding our fate. A depressing thought but nonetheless beautifully masked in what is, after all, a comedy, albeit one with a poignant heart.
Director Kaela Gray has created a new vision for this little-performed piece, and she is helped to its realisation by a truly terrific cast.
The five females are all clearly defined characters in what is a collection of vignettes rather than a narrative throughline story. And the five actresses playing them are all special and give unique performances.
Cassie Baan is a treat as Nell Gwynne - playing her as loud, big, bawdy and foul-mouthed - she's loaded with stage presence and charisma and has a clear comic talent and connection with the audience. Her Nell is an opportunist, out for whatever she can get, and yet Cassie manages to imbue her with a sense of uncertainty and vulnerability that is very appealing. What a valuable addition to any theatre company.
Naomi Thompson IS Mrs Mary Betterton, the Grande Dame of the Playhouse. She gives us clear insight into what it means to be a woman whose love of the stage (and her actor husband) supersedes her love of self. When she is finally displaced (for a younger, prettier actress) she handles it with the grace and acceptance one could imagine the original Mrs Betterton portraying. She has the most poignant moments in the play and evokes a real emotional response from the audience.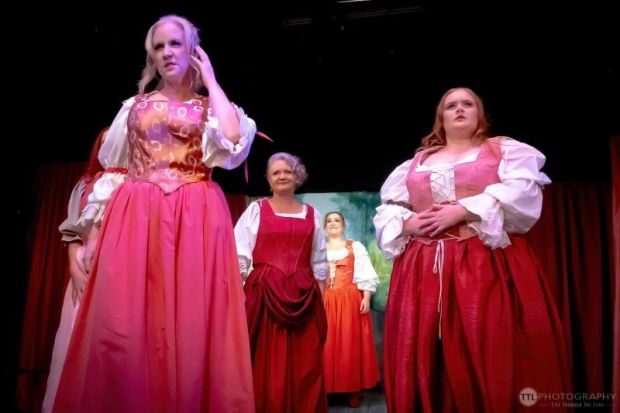 Corinne Meunier gives Doll Common (the dresser and general dogsbody) a warmth and genuine affection that plays nicely alongside her jaded sarcasm. She also carries some lovely comedy business and totally lives up to her programme description of "lewd larrikin". She is also responsible for the set - with its interesting raked upstage area and a colour palette of every imaginable shade of red. It works a treat and is complemented by the costumes - which mirror the same palette (she also designed the programme - such versatility).
Taylor Holmes is an appealing presence as Mrs Elizabeth Farley, who ends up selling herself on the streets when she outlives her glory days. She beautifully portrays the starry-eyed starlet whose fall from grace leaves her desperate and destitute. There's an "almost" abortion scene in which we can actually feel the pain and confusion in the character. Another lovely piece of acting.
Michelle McWhirter has the least demanding role of Mrs Rebecca Marshall, but is none the less impressive for that. It's a nicely measured performance in every sense, and a welcome contrast to some of the overt bawdiness.
Ms Gray directs with a confident hand, using her stage space wisely and contrasting the attitudes in the dressing room with those "in performance", She has a keen eye for comedy business and manages to find laughs without ever going OTT. But it's the little things, like her marvellous soundscape which gives us the noises of the heckling audience, and the working light onstage in those moments when performance is finished, that reveal her excellent artistic eye for detail.
One thing that puzzled me was the addition of the three muses (music, poetry and dance) who, in fact are embodied in Greek mythology as ONE muse - Terpsichore.
The addition of modern music (by Michelle Watkins) sung by the muses seemed to be an unsubtle way of marrying the present (or omnipresent) with the past and the realisation that a woman's lot still has its hazards. Perhaps because it was hard to hear the lyrics a lot was lost on me. However, if you haven't seen the play before you will relish the vocals and the limited but clever and appropriate choreography by Kylie Davis Davenport. And I must admit I laughed out loud at Nell Gwynne singing Sia's "Chandelier". Somehow it just worked.
This is the second show I have reviewed at Javeenbah and I can't wait for the next. It was a thoroughly satisfying night out.
Coral Drouyn