Playing Beatie Bow
By Ruth Park, adapted for the stage by Kate Mulvany. Sydney Theatre Company. Wharf 1 Theatre. Feb 22 – May 1, 2021.
A troubled teenage girl of today finds meaning and connection by following the ghostly Beatie Bow back through the lanes and lives of the Rocks in 1873. It's a perfect opener for the STC's newly renovated Wharf – Ruth Park's popular novel (and the less acclaimed 1983 film) happens right there on its doorstep.
Kate Mulvany's updated adaptation plays deliciously with the time-travelling history and shifts between different Sydneyscapes; and she's heightened the coming-of-age feminist awakening of the two girls through their fractured friendship. Sofia Nolan is spirited as the pugnacious young Beatie and Catharine Van-Davies is authentic and appealing as Abigail, if arguably a less interesting role, now stripped of being our narrator.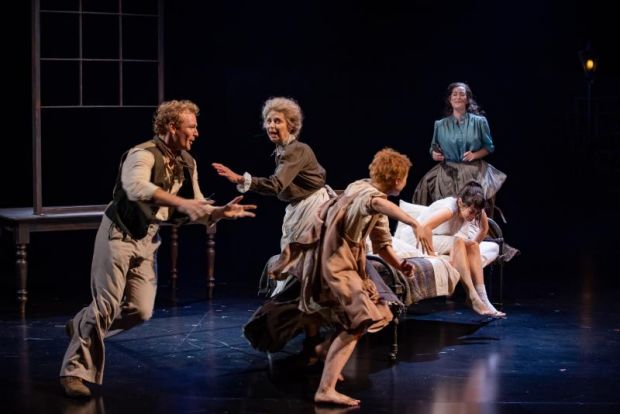 Alienated from her separated parents and Sydney circa 2021, Abigail is magically transported back to Beatie's rambunctious, dirt poor Scottish immigrant family, circa 1873. Granny Tallisker (a splendid Heather Mitchell) is the mystical Orkney matriarch; Tony Cogin and Lena Cruz, Beatie's parents; Ryan Yeates, her funny stubbornly sickly brother; Rory O'Keefe, her handsome sailor brother; and Claire Lovering, her thwarted cousin.
Guy Simon is compelling as Aboriginal laundryman Johnny Whites, bitten by tragedy and created by Mulvany to explore welcome racial themes. Most actors play a host of characters across the deep and open space, using only minimal props, designed by David Fleischer in the newly renovated theatre.
It's expressively lit through shadows by Nick Schlieper, Renee Mulder brings fun and authenticity to the costumes, and its inventively directed by Kip Williams. A forceful score too from Clemence Williams.
Occasionally this swirl of picaresque action and characters gets lost in overly fragmented scenes, sacrificing a clarity of storytelling which earlier Mulvany and Williams so brilliantly articulated in her epic adaptation for the STC of Ruth Park's The Harp of the South.
Playing Beatie Bow is yet to achieve a consistent intimacy over its three-hour span, to thrill and move us as much as this story promises.
Martin Portus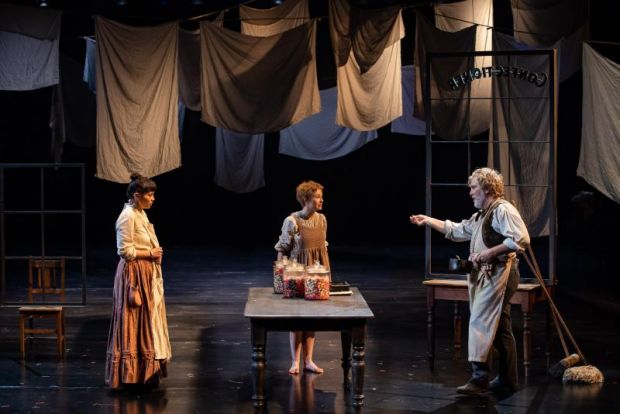 Photographer: Daniel Boud