Point and Shoot
By Tyler Jacob Jones and Robert Woods. Directed by Gemma Hall and Tyler Jones. The Stables, Perth Cultural Centre, WA. Feb 9-16, 2014.
Thanks to an extra show being added to its Perth Fringe World season, I was able to catch this little gem by Holland Street Productions, at its final performance.
This was a World Premiere musical by Tyler Jacob Jones and Robert Woods, who also penned Falling to the Top: The Music Trashtacular, and stars the authors with Erin Hutchinson and Tamara Woolrych. An actor-musician production, the music (including clever sound effects) was all played by the four performers who played maybe twenty instruments and perhaps forty characters during the 75 minute production.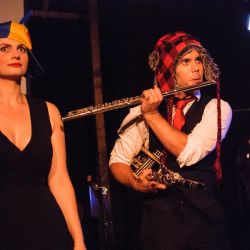 Hilariously funny and extremely clever, the production is set in the future, many years after the collapse of the blockbuster film industry and involves a group of idealists trying to make a film like they made back in 2014. To explain the plot further would be tricky, suffice it to say, it was very intricate and extremely intelligent.
The plot twists and turns at a frenetic pace, resulting not only in madcap costume changes and switching of instrument mid song, but situations where actors are threatening themselves and a fabulous duet between twin sisters Sylvia and Celia, both played (very differently) by Tamara Woolrych. The performances are outstanding, with clear-cut characterisations that are endearing yet distinct enough for the audience to be able to distinguish between innumerable different characters.
A fabulously flamboyant and funny show, I would be extremely surprised if this show does not get another outing very soon. If it does, get a ticket. This is a brilliant new musical.
Kimberley Shaw