The Polyphonic Bard: Music and Shakespeare in Our time
Presented by The Pocket Score Company and Canberra Academy of Dramatic Arts. The Street Theatre, Canberra. 30 November – 2 December, 2012
Hooked on Shakespeare? Part of The Street's Made in Canberra series which fosters emerging local talent, The Polyphonic Bard is an opportunity to listen to gorgeous late Medieval and early Renaissance music and get to see some upcoming young actors, and for the students of the Canberra Academy of Dramatic Arts to perform Shakespearean scenes and sonnets a semi-professional, nurturing context.
The Pocket Score Company all-male ensemble is superb, and has particular strengths at the bottom (bass Ian Blake) and top, with countertenor and harpist David Yardley's beautiful clear voice providing perfect balance to the rich harmonies. We were treated to Purcell (including the favourite If Music Be the Food of Love), Tallis, Palestrina and Monteverdi. Variously using only two, three, four, or all five voices, they easily filled the room with beautiful resonance. There was one fairly notable pitching mishap in a Monteverdi piece with particularly complex counter melodies, but the singers' professionalism and the quality of the voices covered it over and it didn't matter at all. They even borrowed bit of Kimbra technique at the end with the choir performing Thomas Tallis' Spem in alium with a pre-recording of themselves to beautiful effect.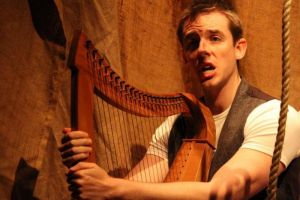 In between the early music and madrigals, we were treated to an energetic playing of the greatest hits of Shakespeare by the CADA students. Benedick's enthusiastic defence of bachelorhood from Much Ado About Nothing was very nicely played, and I have to say I personally appreciated the interpretation of Kate's first scene from The Taming of the Shrew, with a diminutive Kate giving Petruchio a well deserved slapping, getting in a good headbutt and at least one knee to the balls. There was some evidence of nerves manifesting in rushed lines and enunciation not as clear as it could have been, but this was made up for with sheer energy. One sonnet was delivered with such verve it was a joy to watch, even if we couldn't understand a word that was being said! These young players have a bit to learn, but plenty to offer and I hope to see more of them in years to come.
Cathy Bannister