A Midsummer Night's Dream
By William Shakespeare. Pop-up Globe, The Entertainment Quarter, Moore Park, Sydney. Directed by Miles Gregory. 5 September – 4 November, 2018
Popped up in the heart of Moore Park's Entertainment Quarter is a full-size replica of Shakespeare's Globe Theatre, and it's really something. This 200-tonne, 3-storey conglomeration of scaffolding and seats faces a really big stage featuring brilliant, up-close contact with the actors. A large chunk of the audience, the 'groundlings', have to stand throughout the show but are regarded as part of the action, treated as mates one minute or spattered with pretend blood in another.
Pop-up Globe is divided into two companies, one offering all-male shows, the way they were done in Shakespeare's day, the other giving actresses a go. Opening their 4-play season with Shakespeare's best-loved comedy, the all-male team go full speed ahead and you hardly notice what's missing, so self-consciously skilled are Hermia (Max Loban) and Helena (Thomas Wingfield). Their boyfriends, Demetrius (Patrick Carroll) and Lysander (Will Alexander), are delightfully in on the joke.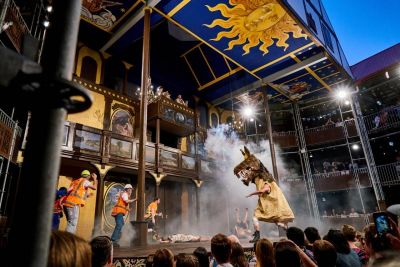 The other woman, Titania, Queen of the Fairies, is played by Asalemo Tofete, and he's massively built. Asleep in his/her fairy bower on the stage floor, he/she resembles a beached whale. Her major conflict with Oberon (Jason Te Kare) and Puck (Jade Daniels) can only be guessed at for the dialogue between these three is in Te Reo Maori — great gobs of it — and naturally I was lost. To have all the magic come with a Pacific Island background is great, but not pages (and pages) of important speech.
Not that it seemed to bother the opening nighters who loved the to-and-fro between Bottom (Chris Huntly-Turner) and his audience, and the combined tomfoolery of the Mechanicals as they scrape together their play for the Duke.
Miles Gregory, first Artistic Director of the company, is in charge. Paul McLaney is leading the excellent musical accompaniment, and Bob Capocci and Shona Tawhiao designed some magnificent costumes.
Frank Hatherley