The Present
By Andrew Upton, after Anton Chekhov's Platonov. Sydney Theatre Company. Directed by John Crowley. Roslyn Packer Theatre, Walsh Bay, Sydney. August 4 – September 19, 2015
This was more like a symphony than a play. Think 1812 overture without the music. There were fireworks, guns, passion and huge helpings of full throated Russian drama.
The leading soloists were Richard Roxburgh (Mikhail) and Cate Blanchett (Anna). The play is set at her explosive 40thbirthday party, in Russia 1995 in a modern home, more than a century after Chekhov first penned the play.
The original four hour drama languished for decades after the playwright's death. It did not have a title and was discovered by a relative who spirited it into a safe deposit box.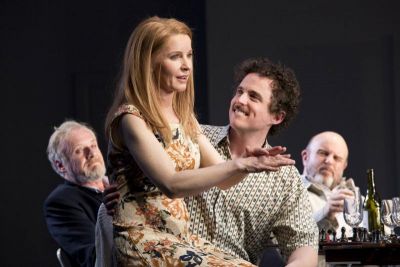 Andrew Upton's update was originally commissioned by the National Theatre and shines perhaps as his best adaptation, which included some of his favourite punk rock music songs.
He did not hold back on the stage directions, even when there was hanky panky between his wife and the leading man. Was it his idea or the director's to have Cate Blanchett appear to play pocket billiards with Richard Roxburgh?
Is there a Helpmann for bravest stage directions written by a director for his spouse? If so he can write his acceptance speech now.
Upton says all adaptations of this work are written to suit the production. On occasions this felt like an episode of Rake on heat.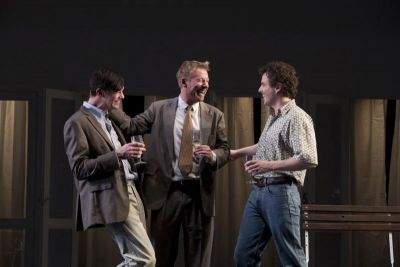 Fans of the TV serieswill lap it up. Mikhail is a lothario on the grandest scale. Yet the audience could not help but like him. It is a burden to be so irresistible toso many women.
The first act went for one hour and forty minutes. Plenty of time to get to know the thirteen characters at the dinner party. Perhaps the funniest moment was the extraordinary transition when the birthday girl evolves from being crushingly bored to raging party animal in chief.
No one would leave the theatre without feeling well satisfied from enjoying another kaleidoscope of emotions from our leading lady.
There were many other contrasting characters at the dinner party. Toby Schmitz (Nicholai) and Chris Ryan (Sergei) react with venom and pathos when their relationships are threatened.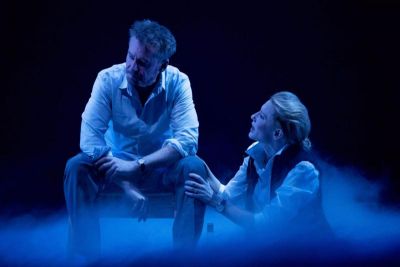 The set design from Alice Babidge is spectacular, seamlessly spinning from inside to outside the house, then opening up to expose a dark and foggy Russian night.
This was a night for drama buffs to feast upon.
David Spicer
Images: Toby Schmitz and Cate Blanchett; Martin Jacobs, Jacqueline McKenzie, Chris Ryan and Marshall Napier; Toby Schmitz, Richard Roxburgh and Chris Ryan, and Richard Roxburgh and Cate Blanchett in Sydney Theatre Company's The Present.
Photographer: ©Lisa Tomasetti