Princess Ida
By Gilbert and Sullivan. South Australian Light Opera Society, Tower Arts Centre, 23rd August – 1st September 2019
Princess Ida was the eighth collaboration between those giants of the operetta Arthur Seymour Sullivan and William Scwhenck Gilbert. It is an adaptation of a musical farce that Gilbert had written in 1870 which in turn was based on the poem The Princess by Alfred, Lord Tennyson.
Princess Ida was first performed at The Savoy in 1884 and is the only Gilbert and Sullivan offering written in blank verse and iambic pentameter, making some of the musical phrasing challenging. Thematically it explores feminism, women's education, arranged marriages and Darwinian evolution, all topics of intense interest and scrutiny during the reign of Queen Victoria.
Princess Ida is betrothed at infancy by her father King Gama to King Hildebrand's son, Prince Hilarion. However, Princess Ida has other ideas and retreats to Castle Adamant where she establishes a University for Women. These learned women completely reject men as being unnecessary creatures, "nature's sole mistake", and assert that romantic love is something to be scorned. Prince Hilarion commits to winning his princess over and, along with his trusty sidekicks, Florian and Cyril, breaks into the castle to woo her. The discovery of the three men in the Castle upsets the young academics and, quite literally, leads to a battle of the sexes.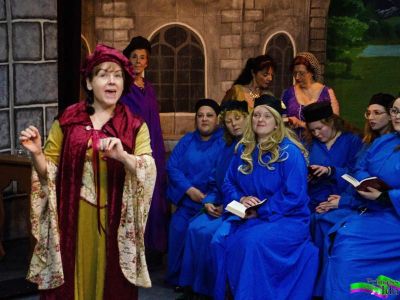 The play opens on the Court of King Hildebrand, with the tight opening number "Search Throughout the Panorama", as the long awaited and promised arrival of Princess Ida is imminent.
King Hildebrand is played with personality, presence and aplomb by the statuesque Greg Paterson. His rival monarch King Gama (the not so statuesque Damon Hill) arrives with his three macho yet hilariously inept sons (Robert Maher, Aslan Storm and Andrew Trestrail) but alas without Princess Ida. Damon Hill's experience in performing Gilbert and Sullivan shines through. With King Gama's song, "If You Give Me Your Attention", he doesn't need to ask twice; he completely holds the audience's attention.
Jason Wandel seems slightly mis-cast as Prince Hilarion but gives the role a valiant effort. At times his voice failed him, although that may have been down to opening night nerves. Wandel relaxed into the role when playing alongside his mates, Florian and Cyril, played respectively by Samuel James and Ben Fleming, both strong singers and good character actors.
Director Maria Davis delivered one of my favourite moments of the night with these three young men, cleverly referencing both Star Wars and Beyoncé, no mean feat in a Gilbert and Sullivan opera.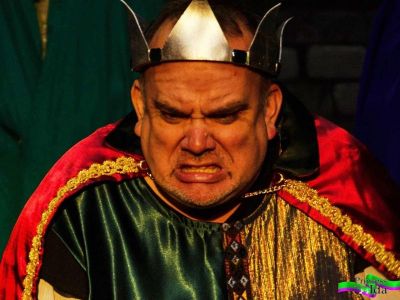 In the title role of Princess Ida, Keira Turner is splendid, angry and defiant. A warrior princess leading her "maiden throng" in the quest for knowledge and independence from the male of the species. She not only looks the part in her leather body armour and glittering tiara, but she meets the vocal requirements of the role with apparent ease.
In what must be a J.K. Rowling approved version of The Lady Psyche, Danielle Ruggiero-Prior looks quirky, is wonderfully endearing and sings so beautifully that we are left wanting more. Sandra Fameli embodies the abstract philosopher Lady Blanche with outstanding flair. Stephanie Foy shows fine comic timing and genuine, engaging stage presence as Blanche's daughter Melissa. The duet between Blanche and Melissa, "Now Wouldn't you Like to Rule the Roost" is another standout of the evening.
Caroline Adams' castle set design is effective and works well in the small stage space at the Tower Arts Centre. Cyndy Trezise's costumes are lush, beautifully designed and constructed. Choreographer Vinuri Gange has worked some miracles keeping so many people moving on the stage in the dance sequences.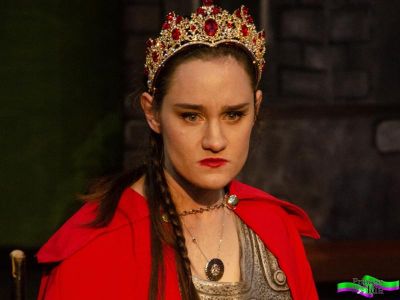 Musical Director Helen Loveday has done a wonderful job with what is considered to be a difficult Sullivan score. Her musical ensemble didn't miss a beat on opening night and even have a small cameo in the action. A timely reminder that they are there and deserve as much praise as the acting ensemble.
Although in our modern age the outcome of Princess Ida may be dated and a tad disappointing, there is still much to enjoy here. Davies and Loveday have put together a strong group of musicians and matched it with a strong ensemble of actors for an entertaining look at some of the popular topical affairs of the Victoria era.
Jenny Fewster