Priscilla, Queen of the Desert, The Musical
By Stephen Elliot and Allan Scott. Presented by CLOC Musical Theatre. National Theatre, 20 Carlisle St, St Kilda. April 30 - May 22, 2021
CLOC Musical Theatre takes a very traditional approach to this iconic and fun-filled musical. The characterisations, music and costuming remain completely faithful to the original text. CLOC goes out of its way to ensure that the sense of grandeur and extravagance that characterises Priscilla is also faithfully reproduced. These extraordinary efforts result in an effervescent and vibrant performance.
Many of the favourite styles and outlandish designs of the costuming are carefully reproduced and these larger-than-life costumes often electrify the stage. The large-scale cast, clever use of space and lighting all serve to emphasise the majesty of this production. One of the more striking features of this very ostentatious set is the reproduction of the iconic bus. The detail of the interior of the bus and its bright contrast with the steely exterior gives the production a wonderful, homely air of familiarity. The glamour of Sydney is made striking through lighting while the isolation of the outback desert is conveyed through a fiery combination of red earth tones.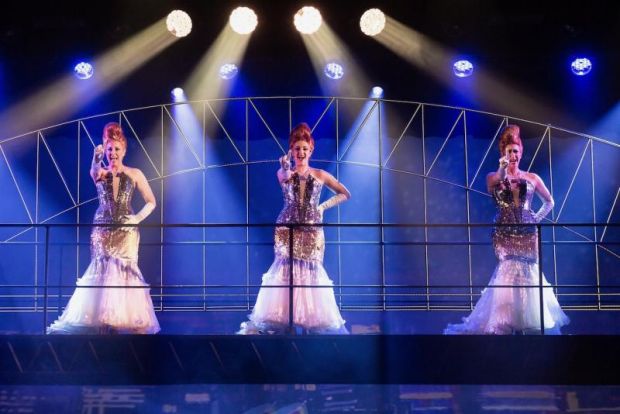 The characterisation of the protagonists is also extremely faithful; Bernadette (Lee Threadgold) is cynical and jaded without being heartless, while Felicia/Adam (Daniel Baker) is thoroughly annoying. Baker especially employs vocal range and costuming to achieve this. The characters are nicely balanced by the more subdued and tender Mitzi/Tick (Angel Dolejší). Tick's relationship with Benji (Jai D' Alessandro/Thomas Smithers) is especially well handled and avoids the sentimentality that can often seep into the exchanges between these two characters. Dolejší and Smithers take a more subtle approach to the emotions which enhances the fragility and affection in their rapport.
The precision and polish to each number produces a seamless rhythm to the delivery. This helps to drive the narrative forward while always keeping the audience captivated. The choreography keeps the dancing consistently energetic and enthusiastic, and this is frequently awe inspiring. The heart-rending vocals highlight the emotions experienced by the characters and fuels the poignancy of the story.
CLOC's outlandish approach to the show exhibits a determination and dedication to the assertion of an LGBTQI+ agenda. The politics of this text may have been ahead of its time when first released as a film in 1994, but this production makes a point of reminding the audience there can be no subtlety in conveying the importance of its message, even today.
Patricia Di Risio
Photographer: Ben Fon (Fon Photography)