A Promenade of Shorts: A Mini Festival of Tiny Plays
Red Phoenix Theatre and Holden Street Theatres. Holden Street Theatres, Hindmarsh, SA. 22 - 31 Oct, 2020
It feels exciting to finally be attending live theatre as it now somewhat gingerly emerges from the COVID hibernation chrysalis. Indefatigable actor and Arts promoter Martha Lott is predictably leading the charge, in partnership with award winning Red Phoenix Theatre and a cavalcade of well known, loved and respected Adelaide community theatre actors and technicians.
Adopting a 'But wait, there is more' approach, this 2.5 hour show takes the audience through three venues at Holden Street Theatres, and a banquet of nine individual plays, three each performed in each venue. It is a stroke of genius, made possible by the three theatres at the venue, the ingenuity of Red Phoenix and three gloriously eccentric and tatty group guides - Wayne Anthoney, Jean Walker and Nicole Rutty - who ensure all COVID restrictions are adhered to, allowing triple the number of audience members. Additionally and unashamedly, an eccentric American, who looked a lot like a badly dressed Michael Eustice, moved amongst the waiting audience selling tat and baubles purportedly to pay the company's expenses and taxes.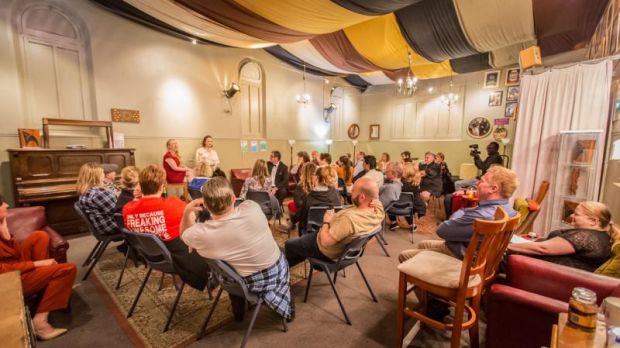 We began our evening in the Box Bar, where chairs had been cleverly placed to gain views of three strategically placed podiums. All three plays were directed by Michael Eustice. In Words that Matter, we enjoyed the most revered speeches of Martin Luther King (played by Stephen Tongun), Robert Kennedy (played by Anthony Vawser) and Julia Gillard (played by Sharon Malujlo). Each speech addressed hallmark political issues of all time, cleverly punctuated with 'Stop' and 'Go' halting the continuous performance, allowing the audience to focus on key parts of those speeches. Tongun, Vawser and Malujlo all gave stirring performances, repeated later in the grounds so that waiting audience members could enjoy parts of those speeches.
Up Close and Personal, in the same venue, takes the audience to a singles bar, where what seemed like a chance meeting of two women who were strangers, turns into a vitriolic encounter with a wronged wife. Kyla Booth used the room effectively, taking charge of fiercely combative dialogue skilfully attacking and destroying the lover, Petra Schulenburg.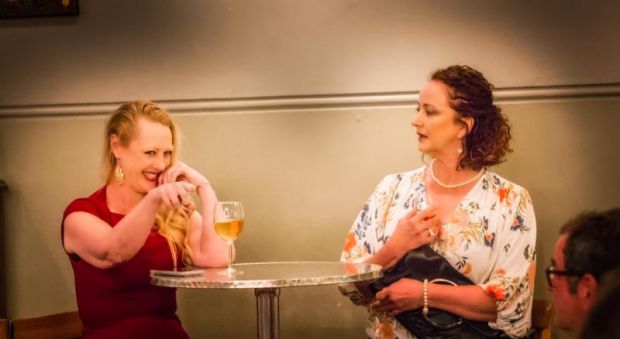 Attack of the Killer Banana Spider! saw Josh Coldwell and James Fazzalari frantically dealing with a spider whose bite reportedly causes 'four hour erections'. Yes, it is a comedy, addng balance to the other emotionally charged plays in that venue. It was crazy, implausible, and lots of fun.
Our second venue was The Studio, where Nick Fagan directed two plays and Brant Eustice directed the third. Electric Roses exposed the tragedy of domestic violence with Lyn Wilson and Brant Eustice delivering 'stand out' performances - hers full of pathos, his tinged with angry menace.
The second play, Intermission, allowed the audience to eavesdrop on a couple's first meeting at the theatre. Fahad Farooque and Kate van der Horst were allowed to shine, supported by four other theatre goers - Peter Davies, Rebecca Kemp, Jenny Allan and Sharon Malujlo - drifting through, having their own issues based conversations.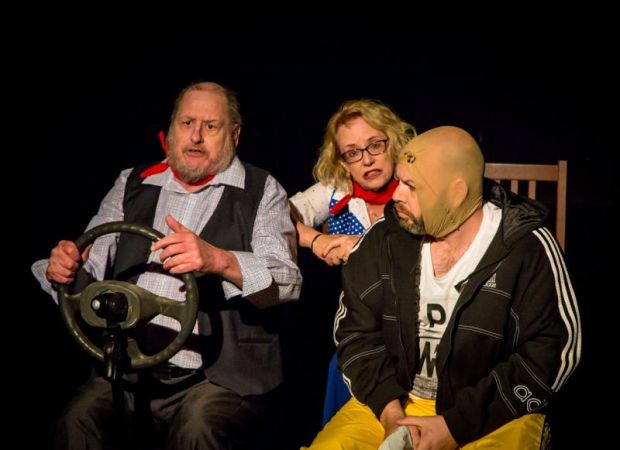 Driving Mr Diddy, directed by Brant Eustice, took us into Joanne St Clair and Brian Godfrey's car. Dressed for line dancing, their car is commandeered by masked criminal Darren P Diddy, played by Nick Fagan. St Clair steals this play with her annoying niceness and reasonableness with runaway criminal Fagan, who may well have exited their car and let them go just to get away from her. All three did great work, swaying and moving as the car careened and cornered to the extent that audience members may well have felt car sick!
The Arch presented plays directed by Libby Drake. It must be said that in using an actual stage, the crew were also 'stars' of these three shows, operating good lighting and swiftly and seamlessly moving furniture, scenery and props.
The Book of Leviticus Show had Ruby Faith in the lead as a Deep South bible belt USA evangelist. Accents were consistent across the cast, in a play delivering a message about justifiable murder in the name of religion. Jamie Wright, Therese Hornby, Tom Tassone and Laura Antoniazzi all had featured roles.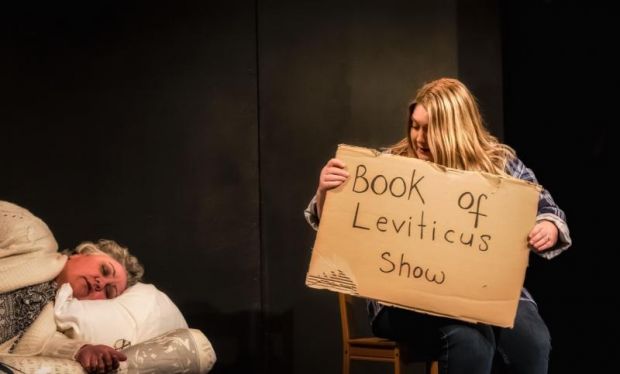 Auto Incorrect, a more recently written play, was very funny. A two hander with Anita Zamberlan Canala and Tim Williams featured clever, witty malapropisms, faultlessly delivered by Williams.
Loyalties attempts to use a non time-defined setting to address a powerful issue of historical importance. It would be a 'spoiler' to reveal any more. The hard-working cast features Tom Filsell, Laura Antoniazzi, Jasmine Leech and Tom Tassone.
The program, helpfully included information about the plays' writers, many widely regarded authors, and the year of writing. If I have any criticism, it is that several of the older plays are dated and dialogue and issues seemed less relevant and potentially clichéd.
Line up quickly for tickets to see this show as it is almost booked out. Red Phoenix Theatres have shown us that theatre in Adelaide is, once again, alive and well.
Jude Hines