Pygmalion
By George Bernard Shaw. New Theatre, Newtown, NSW. April 23 – May 25, 2019
Deborah Mullhall's decision to use a Steampunk theme for this production works surprisingly well. The1980s fashion genre that mixed Edwardian costumes with the cogs and goggles that symbolised the industrial revolution, pushes Bernard Shaw's characters into a more contemporary age – and highlights the fact that the themes he wrote about in 1912 haven't changed greatly. The world is still classist and judgemental. There is still inequality. Chauvinism still abounds.
Tom Bannerman's stark set establishes the 'industrial' aspect of the theme. A white 'railway line' bookshelf curves around the stage. A metal stairway angles to a higher level. The only furniture is a silver two-seater chaise and chair upholstered in cog-printed fabrics. This minimalism serves to accentuate the elaborate detail and slinky chains of the Steampunk costumes, designed by Mulhall herself and costume assistant Fiona McClintock.
All of which, though meticulous, are surpassed by the acting and direction! The action is tightly focused. The characters are finely developed. The dialogue is sharp and clear – itis "the language of Shakespeare and Milton" – but never laboured. This pushes the pace of the production in line with the more contemporary theme – and is sustained even in the long exchanges in the final scenes.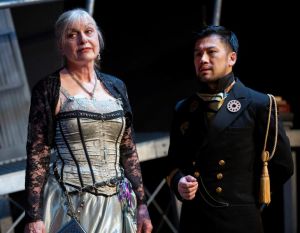 Steve Corner and Emma Wright as Professor Higgins and Eliza Doolittle parry delightfully, he haughtily espousing his triumphs, she deflecting his opiniated arrogance with righteous indignation. Both wear their characters and their costumes confidently and decisively, breathing freshness and vitality into roles created 106 years ago!
Mulhall recreates Colonel Pickering and Mrs Pearce as younger and more 'with it' characters – thus making the tone of the play lighter, in keeping with the more 'edgy' theme. This puts a different slant on Pickering's ability to identify with both Higgins and Eliza, and Shan-ReeTan carries it off well. His Pickering is more dashing, just a trifle supercilious, and very engaging.
It also gives Natasha McDonald the opportunity to give a bit of accented spice and colour to the role of Mrs Pearce. McDonald does so with carefully gesticulated aplomb, niftily putting Higgins in his place and deftly taking Eliza under her more modern protective wing.
All four of these actors work together with a syncopated poise that synchronises with the theme. Mulhall must be delighted with the effect her direction has achieved.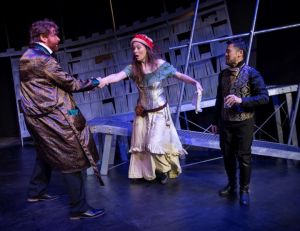 Collen Cook is a gracefully dignified as Mrs Higgins, a contrast to her less decorous son. Tricia Youlden is elegantly tentative as Mrs Eynsford Hill. Tiffany Hoy is her society-conscious daughter, Clara, Robert Snars her more chivalrous son, Freddy. These four actors, too, despite less stage time, impress with their contribution to the effective 'whole' of the production.
Mark Norton plays Eliza's "undeserving poor" dustman father, Alfred, and Lisa Kelly is Mrs Higgins' maid. Emilia Kriketos, Sean Taylor and Vitas Varnas are very observant bystanders in Covent Garden.
Deborah Mulhall has given this production of a Shaw 'classic' a nudge into a more futuristic time slot – yet sustained the elegance of the language and the characters … and the messages they convey.
Carol Wimmer
Photographer: Bob Seary