Quartet
By Ronald Harwood. Villanova Players. Ron Hurley Theatre, Seven Hill, Qld. 26 June – 11 July 2021
Quartet has become a popular title on the amateur circuit. Its gold-class pedigree includes a West End season in 1999, and a film which starred Maggie Smith, Pauline Collins, Tom Courtney and Bill Connelly. It's another in a series of plays and movies for an older audience like Ladies In Lavender, and it fits the bill nicely.
Set in a retirement home for aged musicians and opera singers, the annual concert to celebrate composer Giuseppi Verdi's birthday is interrupted by the arrival of Jean, an eternal tactless diva and the former wife of one of the residents. Harwood's mix of the milieu and aging has enough one-liners to satisfy the teeth-in-a-glass set, and its gentle comedy gives one a warm glow.
Maria Plumb's production for Villanova ticked all the right boxes with a strong cast of community theatre stalwarts. As the aging diva Jean, who puts the cat-among-the-pigeons, Jill Cross gave a good performance of a proud woman, miserable and resentful to find herself reduced to joining the inmates. Adamant that she won't sing Gilda's role in Rigoletto's 'Quartet' for the concert, for which she is famously known, she's overbearing, and too proud to admit her voice is gone.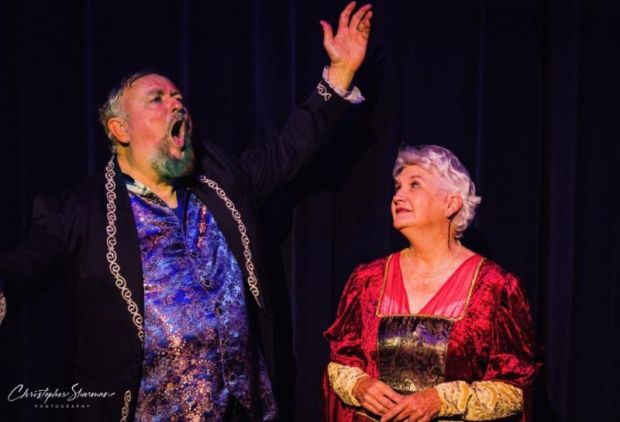 Cecily, who sang the character of Maddalena years ago, is the organizer of the group. She's bubbly, flutters incessantly, high-spirited, and forgetful, and in Mary Woodall's hands was a delight.
The bottom-pinching, randy Wilfred (a gift of a role) was humorously played by Barry Haworth, who attacked the vulgarity with relish. That brings us to Reginald, withdrawn and self composed until he is completely thrown by the sudden appearance of his ex-wife, Jean. Rod Thompson gave probably the best performance of the play. Ferociously attacking and hurling abuse at Jean on her arrival, but gradually accepting her and the situation he finds himself in, it was a truthful and honest portrayal.
Eventually of course Jean has a change of heart and does agree to perform in the concert when they decide to dress in costume and mime to their recently reissued recording of the 'Quartet', which was the highlight of all of their careers.
Dramatically the second act is a bit thin, but the actual concert - performed in front of blacks - was a satisfying finale.
Peter Pinne
Photographer: Christopher Sharman