Queensland Music Festival
The Little Green Road to Fairyland.
Old Museum, Brisbane. 15-16 July 2011.
So much entertainment royalty is involved in this newly commissioned work: Composer Elena Katz-Chernin; Choreographer/Director Rosetta Cook; Orchestra The Southern Cross Soloists(augmented), under the baton of Sarah-Grace Williams; Soloist Katie Noonan; Narrator Christine Johnston; and eight dancers, some nationally and internationally acclaimed.
This was QMF Artistic Director Deborah Conway's personal choice for the Festival's pièce de résistance.
Katz-Chernin's score is melodic, beautiful and embraces a variety of dance rhythms. It will become a popular recording and a suite of concert pieces. The conductor and her nine instrumentalists performed the score impeccably. One reservation: Katie Noonan's wonderful voice was used mostly in vocalese as part of the orchestration. I think there were two or three songs. I heard and understood only the last one. Sound engineer's problem? I suspect so. (I had the impression the techies were flying by the seats of their pants.)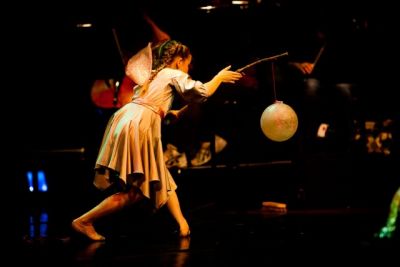 The composer and Rosetta Cook worked together for three years creating the story as a series of ballet vignettes. The dancers performed these scenes with panache.
The storyline became muddied from the start. The idea to create the narrator as head of a minor theatre company whose dancers were performing this show was the problem ─ it became a complete diversion from the storyline and delayed the introduction of the story itself. Christine Johnston commanded the stage as usual (although audibility again was a problem at times).
The show lacked focus. Is the target audience adults or children? It needs a strong stage director to pull the various elements together, make the necessary cuts (The tack-on extra Burimbadale Music Theatre Society should go) and let the book tell its story.
Heaps of talent that missed its target.
Jay McKee
Queensland Country Comfort Hour
Queensland Music Festival in conjunction with the RockWiz team, Hugh Lunn, Renegade Films and ABC Local Radio. QPAC Concert Hall. Then touring round Queensland (Townsville, Caloundra, Brisbane and the Gold Coast) 16th July to 21st July, 2011
Live radio on the television stage of theatre.
Rockwiz's Brian Nankervis was the star of the night with this rollicking old style Queensland country radio show complete with a three-piece live band, four back-up singers, an 'applause' sign, plenty of audience participation, sing-a-longs, a quiz and even the use of traditional audience prompt cards. And a radio show it was because after a hilarious warm-up segment, it was announced that after interval a one-hour show was going to be recorded live for the ABC. Various members of the audience were brought into the act including a fun segment when Brian rehearsed those selected to be a part of the quiz on the recorded show. Great stuff and a barrel of laughs. I also enjoyed his (scripted) reflections of life in Queensland as a child (so he said) and the drift through familiar locations (who doesn't remember, for example, The Pink Poodle). Poignant, whimsical writing and presentation.
After interval it was radio show-time and the audience were all revved-up undoubtedly expecting more laughs and a good time.
This was the show's low point and somewhat disappointing, with, an overly long live phone call to an aged Queenslander who did tend to go on a bit, bless his heart, though it was a touching theme about the terrible floods, vocals from local country song-writer Don Walker, an interview with local playwright John Birmingham, though Christine Johnstone's mimicry of local bird calls and a fabulous rendition of Saint-Saen's "The Dying Swan" with a saw, accompanied by the band, was quite mesmerizing and change of pace for the show. Pity about Hugh Lunn's script for the radio play 'Search for a Queensland King" starring our famous Australian actor Bruce Spence and special guest Julie Zemiro, because, though it was well presented, the plot lost it after a while and the laughs were far and few.
Though the show had a few holes and lacked some rehearsal, it didn't really matter because the intended flavour of 'neo-vintage' local country radio almost reached its target, both visually and in concept; and what with The Nymphs 'getting there' harmony vocals, a true-to-form band that reminded one it was time for another XXXX (Q's famous lager) and then, to top it off, a good ol' rendition of Don Walker's 'Beautiful, Beautiful Queensland' audience and all, it was still a satisfying experience for the country fans and not a bad night out for those who like something a little different or even, perhaps, 'taking-the-p…'.
I had a beer afterwards and found it more 'comforting' than usual.
Brian Adamson
DRAGQUEENSLAND
By Christopher Gist and Paul Kooperman. Composers: Philip Jackson and Willy Zygier. Queensland Music Festival. Judith Wright Centre of Contemporary Art. Director and Dramaturg: David Fenton. Lighting Designer: Jason Glenwright. Costume Designer: Leon Krasenstein. 15 – 23 July, 2011
Poetry in motion was a bit of a drag. This sums up the Queensland Music Festival's foray into the life and times of Queensland drag artists, aptly presented in a contemporary art venue. Based on the interviews and research of three generations of local drag artists, this short one-act show was presented as a montage in a 'son et lumiere'cabaret setting using a combination of electronic orchestration and theatre in-the-round.
With a serious and brooding start, the three characters Myles (Sandro Colarelli), Brian Lucas (Dale) and Lucas Stibbard (Ruben) delve deeply into the experience of growing up in a typically 'straight' environment, coming to terms with sexuality and the desire to explore the world of drag. All presented in a surreal glam-rock setting using poetry and song and an almost continuous raw electronic accompaniment, with some live guitar playing from one of the composers, the show gradually drifts from the bitterness and turmoil of youth to the light-hearted and very Australian bitchy form of humour so prevalent in the characters' new world.
Though I enjoy looking at certain aspects of life's experiences through a prism, I found this interpretation of "I Am What I Am" a la 'Queen of the Desert' rather awkward and stilted. The performances were at times somewhat wooden though Lucas Stibbard's portrayal of Ruben was soft, sensitive and charismatic. This worked well when he invited the audience into his world. This they enjoyed, as they did when Myles and Ruben burst into some inspiring vocals.
I was quite moved by the writers' poetry in the early part of the show, in particular Dale's soliloquy, and there was a well crafted gradual crescendo in the production, but unfortunately it slowly ground down to a halt where one wasn't quite sure if the show had wound up for the night.
Indicating too many areas of experimentation, this show needs more light, shade and timing to keep the audience's attention.
Even with the intended serious look at the genre of the frivolity of drag, this gender-bender art-show could have attracted more sparkle.
I hope I'm not sounding like a sur-real bitch ….
Brian Adamson
Spirit of India
The Nataraj Cultural Centre, the Lakshminarayana Global Music Festival in association with the QMF, Arts Centre Melbourne and Recitals Australia. Queensland Conservatorium, Ian Hangar Recital Hall. Sydney, Melbourne, Brisbane, Gold Coast and Adelaide 23/7/11 to 27/7/2011
The East meets Brisbane's South-East.
This double-bill was a recital from some of India's most renowned performers, in particular the famous Dr Lakshminarayan Subramaniam, virtuoso and exponent of traditional Indian violin and distinguished Hindustani vocalist Kalapini Komkali, accompanied by accomplished players of the harmonium, tabla (percussion) and the mridangam (or jews harp).
Starting with a brief talk by one of the deities describing the music's roots over an incredible five thousand year period, Ms Komkali, seated with sitar along with her fellow musicians, introduced and sang a variety of traditional music stemming from different parts of India.
What I found fascinating about this recital was the infinitesimal range of tonality found in this music. Being a trained academic musician with traditional western roots, it was astonishing to hear music that literally 'transcended' the system of intervals and harmony that our world is generally accustomed to, in particular the diatonic and modal systems. (Advanced forms of tonality, for example Shoenberg's exploration of 'serialism', and additional forms of experimentation of sound, is another subject). There were times when Ms Komali entered the realm of quarter, even eighth, perhaps even sixteenth tones. Though I found her voice a little strained at times and the first song far too long, she took us on a very different journey through history long before western music started to develop a harmonic system and form of its own.
Similarly, after interval, Dr Subramaniam and his son, Ambi, demonstrated how versatile the violin can be to capture this unique style of music. His virtuosity is quite astounding and what better an instrument to create a note, its timbre and an interval, unlike, for example, the piano.
A lot of this music evokes a truly spiritual sense and you can hear in its soul a searching and yearning for the divine. Though I indeed respect its graceful culture and tradition, I can see why Dr S has worked with famous western classical and jazz musicians because both artists demonstrated an evening of impressive technique and abundant improvisation that was, at times, so similar in style and lacking in subtle nuance, similar to certain classical and jazz concerts/gigs I have attended which have been more of a technical show-off, that gradually I started to wilt into a familiar state that, as with all of us, was unfortunately not meditation, which, incidentally, was a practice that profoundly influenced my life for many years.
Though this was an historical representation, I began to yearn for the lessons we have learnt over the years about keeping an audience's attention. I also found that the constant (pre-recorded?) drone that greeted us as we entered the auditorium and continued throughout most of the concert somewhat grating on the nerves. It reached a point where I thought maybe it's time to let the bee (me) out of the house and though I appreciate the tradition and intrinsic values related to its existence, my experienced musical ear wasn't 'in harmony' with the same 'bass note' all night. I like variety and spice in my musical diet, the diversity of music theory and all of its intricacies, so after a while this evening left me yearning to attend, ironically, Mozart's 'Cosi fan Tutti" (or a second course with diatonic music) in the Conservatorium Theatre opposite.
A fascinating specialist outing for a variety of academics, lovers of this style of music and impressive artistry from all the performers.
Brian Adamson
Piano Lessons
ByAnna Goldsworthy. Queensland Music Festival, QPAC and the Brisbane City Council. Cremorne Theatre, QPAC Brisbane
Director and Dramaturg: Michael Furcher. July 26 – 30, 2011
I take my hat off to Anna Goldsworthy for presenting this intriguing, autobiographical view of life at the piano. Based on her book of the same name, the stage adaptation traces the memories and experiences and those who had a profound influence on her life and musical achievements. With a cast of two and pre-recorded comments from various other relevant individuals, in particular her parents, Anna created a theatrical presentation with actors and live piano to express these experiences, in particular her deep affection for her Russian teacher, so eloquently played by Caroline Kennison.
There are many talented pianists who can easily play all the piano favourites in this concert programme, so it was refreshing to hear yet another interpretation of this selection of pieces in such a different medium. Anna is indeed an accomplished pianist but I would also like to add my dissatisfaction with the interpretation and performance of some of these works, which I can fortunately say was part of the script of the show too: in particular, the famous Schubert Impromptu Op.90; and why use the end of the last movement of Khachaturian's piano concerto? (I have played it myself). Excerpts from the first movement would have been a far better choice.
However, this enchanting evening was not just about the music. What inspired me more was Caroline Kennison's captivating performance as Anna's teacher complete with an almost impeccable Russian accent and characterization; indeed a difficult act to match because Anna's talents lie more in the musical world rather than as a stage actress. However, she wrote the book, the script, played some famous piano repertoire and, what is more important, she played herself. This is a grand achievement.
I spent many years in Europe where, at one stage in my career, I worked with some very talented Russian musicians. The script and role of Anna's teacher so reminded me of my own experiences, with the poeticism and evocative vision of some of these artists, it was satisfying for me, as an Australian too, to see this talented musical girl from the Adelaide suburbs having the opportunity to experience in her music lessons something more inspiring than the culture of her down-to-earth Aussie family. Though there was the love and support there, she adequately expressed her awareness of this clash of culture with humour and panache.
To quote a famous adage, which applies both to music and language: "It's not what you say but how you say it".
Could this not apply in general to Anna Goldworthy's reflections of this inventive adaptation of her book?
Brian Adamson
To keep up with the latest news and reviews at Stage Whispers, click here to like us on Facebook, or follow us on Twitter.