Queensland's Finest
Queensland Symphony Orchestra (QSO). Concert Hall, Queensland Performing Arts Centre (QPAC), Brisbane. 3 & 4 September 2021
Presented by the QSO, Brisbane Festival, and QPAC, Queensland's Finest presents some of our state's best new talents, performing on the same program for the first time. Leading the proceedings was brand new Co-Concertmaster, Natsuko Yoshimoto (who shares the role with Warwick Adeney) a fresh and welcome move.
Image: Natsuko Yoshimoto
Wielding the baton was conductor, Dane Lam, presenting a world premiere of a new work, 'Illuminating Paradise' by young Brisbane composer, Sebastian Lingane, alongside a musical menu featuring piano soloist, Jayson Gillham (tackling Beethoven's 'Piano Concerto No.4 in G') followed by a bright and lively 'Till Eulenspiegel's Merry Pranks' by Richard Strauss.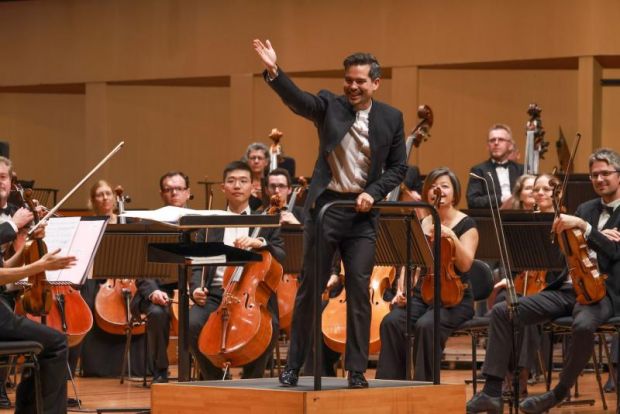 Image: Dane Lam and QSO
The opening piece (commissioned by the QSO) by Sebastian Lingane, an ASME QLD Young Composers Competition winner, and recipient of QSO's 2019 Compose Project Award, was filmic and evocative. The composer was interviewed on stage by Dane Lam and revealed a desire to maximise the talents of the array of musicians in the orchestra, and a love of composers of the 1900s. To me the piece meandered merrily through a range of styles and was also resonant of great film score composition by the likes of Bernard Herrmann – expressive, tense, playful and witty all at the same time. With a self-confessed interest in accordion, ukulele, and percussion (among other instruments) and continuing composition study at Griffith University, this is one young composer who will no doubt be innovating in interesting ways in the near future.
Image: Dane Lam and Sebastian Lingane interview on stage
Australian-British pianist, Jayson Gillham, has performed with orchestras across Australia, New Zealand, and the UK. He records albums with ABC Classics – including the Beethoven piece on the program, 'Piano Concerto No. 4 in G'. The composer certainly gave his soloists a challenge, while allowing ample opportunity to showcase multiple piano-playing techniques. It seems an otherwise light piece, without the usual bombast that casual Classic fans like me would expect from Beethoven. But it was surprisingly light and breezy and certainly allowed Gillham to shine. He is an emotive and expressive player and a joy to watch. He was seen autographing his albums afterwards and is sure to be a favourite performer for bringing new audiences to the classics.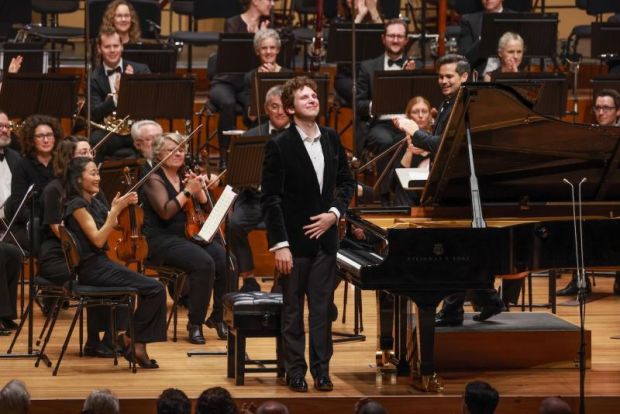 Image: Jayson Gillham or 73 Dane Lam and Jayson Gillham
The Strauss piece, as conductor Dane Lam explained, was an entertaining tune written by Strauss towards the end of the 18th century inspired by an infamous German folklore rogue from the 16th century, Till Eulenspiegel, and his merry misadventures about town. What a wonderful piece of music – witty and entertaining, cinematic before its time. I would hazard a guess that Walt Disney and his team were almost certain to have heard this piece at some stage in the early 20th century as it is so reminiscent of a scene from an early Disney or Merry Melodies short, so animated that you could almost see the drunken Till, the clarinet picking out his drunken footsteps as he staggers across the stage!As a short, early morning program,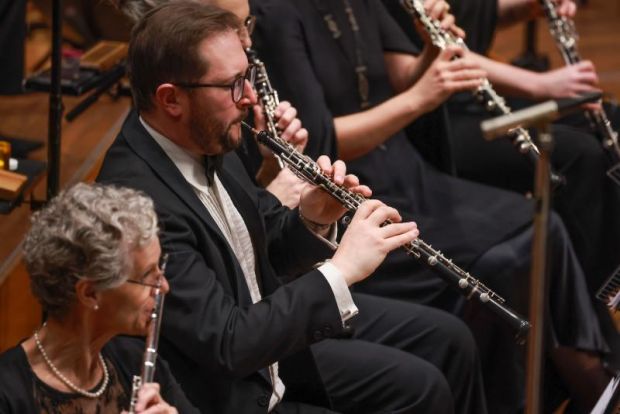 Queensland's Finest was a delightful way to take in some classical music pieces – and new works – performed with the virtuosity of the QSO's talented musicians. It is also a great chance to see Brisbane-born international star Dane Lam at work. Dane is the inaugural Associate Music Director and Resident Conductor at Opera Queensland and Principal Conductor and Artistic Director of China's Xi'an Symphony Orchestra. He has worked all over the world and has returned to his home state of Queensland where, as well as working with the QSO, he is also Associate Lecturer at the University of Queensland, and working with the university's Symphony Orchestra. You really must see this lively conductor in action.
Check out the QSO website: https://qso.com.au/
Beth Keehn
Photos: Peter Wallis