Quiet Faith
Directed by David Williams. Co-commissioned by Vitalstatistix and Hothouse Theatre. Developed as part of Vitalstatistix's Incubator program. Waterside Workers Hall, 11 Nile St, Port Adelaide (SA). October 8-19, 2014
Produced with the best of intentions, and obviously a labour of love for everyone concerned, "Quiet Faith" sets out to challenge stereotypes about contemporary Australian Christians, and explore the relationship between faith and politics.
The script is a compilation of excerpts from various interviews conducted by writer/director Williams, who spoke with twenty Australian Christians from different denominations and had dozens of conversations with other believers, ranging in age from late teens to early seventies, and from a wide variety of different social backgrounds. Each interview focused on exploring three key questions:
- How would you describe your journey of faith?
- How does faith manifest itself in your everyday life?
- What do you think is, or should be, the relationship between religion and politics?
The audience is seated in a circle, with Williams walking amongst them reciting testimony from the various male interviewees, and Ashton Malcolm giving voice to the female subjects, addressing the audience in a similar fashion. These monologues are punctuated by various well known spiritual songs (such as "Amazing Grace"), performed live by Williams and Malcolm, with the audience sometimes encouraged to join in.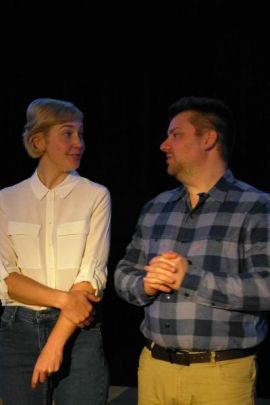 Unfortunately, Williams and Malcolm, though emotionally attuned to the material, aren't versatile enough performers to successfully pull off this method of presentation. Williams interviewed an eclectic range of individuals, but he and Malcolm do not inject enough variance into the tone of their line delivery or their general body language to give each individual a distinctive voice and personality. Also, though they are not bad singers exactly, their renditions of very well-known hymns lack the technical virtuosity and emotional gravitas that would be required to make such familiar material feel fresh and alive.
"Quiet Faith" would probably have been a more engaging experience if Williams had each different monologue performed by a separate actor who could embody the individual not only emotionally, but physically, and had the songs performed by those with the vocal chops to make them soar – in the manner of something like "Working", a show which was similarly built around interviews with ordinary people.
The show is intermittently moving due to the various anecdotes from the faithful… a doctor recounting her efforts to comfort a Muslim patient who was contemplating suicide, and a priest faced with a request from grieving parents to baptise their dead baby are particularly powerful moments, performed with poignant sensitivity.
Unfortunately, many of the socio-political arguments are unlikely to impress those not already converted. The common stereotype that Christians are politically conservative by nature comes under fire frequently, and "Quiet Faith" persuasively argues that moderate and progressive religious voices are not treated to the same level of media exposure as fundamentalists. However, many of the counter-arguments made to both secular criticism of Christianity, and fundamentalist criticism of moderates involve appeals to emotion, rather than truly challenging, evidence-based arguments.
As is, "Quiet Faith" is a show most likely to appeal to Christian moderates and progressives, who can take comfort in the fact that they are not alone and may relate to the experiences of the interviewees. But I fear it lacks sufficient style and substance to appeal to audiences outside that demographic.
Benjamin Orchard
Photographer: Lara Torr