Rabbit Hole
By David Linsday-Abaire. Joh Hartog Productions. Bakehouse Theatre, Adelaide. April 28 to May 8, 2021
'Child loss is a loss like no other. The loss of a child is a grief that lasts forever.' (Angela Miller – grief counselling blogger). A potent statement and the theme of Rabbit Hole, presented by Joh Hartog Productions.
Rabbit Hole by David Linsday-Abaire is a 2007 Pulitzer prize winning play (first presented in 2006) and was famously made into a film of the same name in 2010 starring Nicole Kidman and Aaron Eckhart.
It tells the heart-rending story of Becca and Howie Corbett, a happy suburban couple whose lives are changed forever when their young son Danny is tragically killed in an accident. The play picks up eight months on and they are drifting dangerously apart. Becca wants to start afresh in a new home and give away their son's possessions and Howie has joined a self-help group and wants to keep Danny's presence in the house.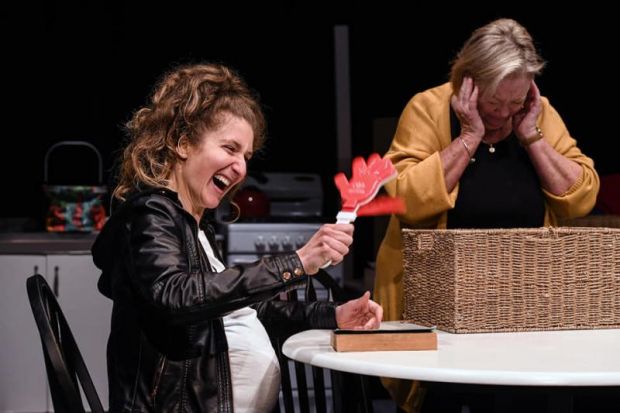 To add to the mix, Becca's Bohemian younger sister Izzy has just announced that she is pregnant, while the girls' mother Nat is no stranger to the grief, having lost her 30-year-old son Arthur to suicide, and Jason Willette, the young driver who killed the Corbett's son, is seeking reparation.
While the script may have some problems, the production shines. Joh Hartog's direction delves deep into each character and their sense of loss. They each carry their own versions of grief, frustrations, anger and sadness and this creates tension and the feeling of being misunderstood. One feels for each character and almost voyeuristic watching their inner and outer struggles.
The action is set in the Corbetts' kitchen and lounge with an upper story to highlight Danny's bedroom. Jo Hartog's set design coupled, with Stephen Dean's lighting and sound, makes the most of the limited space available and so the area never seems crowded.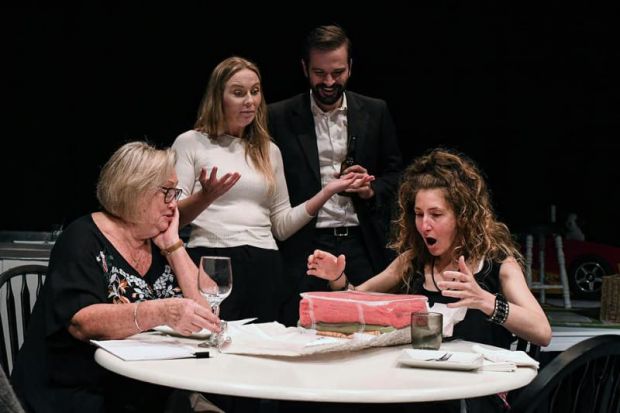 Krystal Cave's Becca starts quietly, dealing with her own inner demons in her own ways which include trying to remove the constant reminders of her dead son's presence. Her Act II 'supermarket scene' is a highlight, demonstrating her affection and impatience with her younger sister.
David Daradan's Howie is equally heart-rending to watch. Unable to let go, he is the antithesis of Becca, driving a wedge between the two. His reactions upon discovering Becca has accidentally wiped a VHS tape of their son is hard to watch, yet impossible to look away from.
Stefanie Rossi's Izzy is an excellent balance of youthful exuberance and the need to be taken seriously as a new mother-to-be. She looks to her sister for reassurance in vain. Rossi is a gifted actor, and what could easily be a caricature is played with underlying anguish.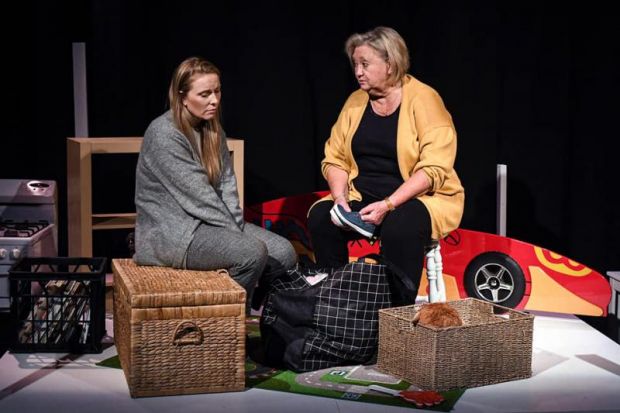 Gail Morrison's Nat (Mum) is torn between trying to be the best of mothers to her daughters and dealing with her own loss. Morrison gives the role a dry sense of humour with a heart of gold under the gruff exterior, particularly in the scene in Danny's bedroom with Becca.
Liam Hennessy's Jason is tortured, wanting to atone and hopefully realize peace at last. His physicality highlights his inner struggle; hand-wringing, bent over at the shoulders and mentally unable to deal with an 'adult' situation.
Danny is heard only as a voiceover and is voiced touchingly by twins Aston & Max Hughes.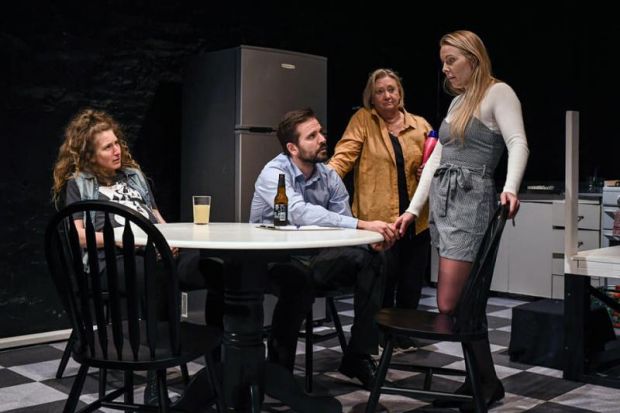 My only reservation with this play is the structure of the script. Becca seems to undergo a 'shift' in her approach to dealing with her own grief in the gap between Acts I and II. There is no explanation in the dialogue to explain the motivation for this change.
Rabbit Hole is a reminder that every human is fragile and that loss can happen to anyone, with lasting consequences for mental health and relationships. Bravo Joh Hartog Productions for handling such a difficult subject with finesse - a compelling piece of theatre!
Barry Hill