The Real and Imagined History of The Elephant Man
By Tom Wright. Directed by Matthew Lutton. Malthouse Theatre, 113 Sturt Street, Southbank. 4-27 August, 2017.
This play is a poetic exploration of the story of Joseph Merrick which is entrenched in its setting: 19th century industrial heartlands of the English midlands. While the text is far removed from the dramatisation in the 1980 film, The Elephant Man (David Lynch), there is a delicate acknowledgement to this cinematic heritage.
The staging is acutely aware of cinematic play with contrasting shade and light and the episodic nature of the script is attuned to a cinematic approach. The choice of a black and white film in 1980 was a bold one and this production is reminiscent of the bleakness of the imagery in the film. Billowing smoke references the film and the grey, polluted environment in which the story takes place. However, the highly stylised nature of the staging and the poetry of the text give this performance a more contemporary dramatic quality.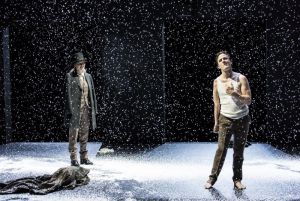 Shock is generated more from the frequently inhumane reaction of people to Joseph and their lack of empathy for his condition. Daniel Monks (Merrick) is outstanding and sustains a performance that is both physically and emotionally demanding. He is flanked by performers whose gritty approach to the various characters they inhabit demonstrates delightful versatility and vividly brings the era to life. There is an eerie reality to this deeply moving story which is beautifully and sensitively managed in this performance.
Patricia Di Risio
Photographer: Pia Johnson.