The Red Tree
By Hilary Bell, based on the book by Shaun Tan. Music by Greta Gertler-Gold. National Theatre of Parramatta. Lennox Theatre, Riverside Theatres. October 19 – 28, 2017.
The National Theatre of Parramatta brings another new piece of homegrown theatre to the Riverside – and Australian – stage. Based on the book by artist Shaun Tan, The Red Tree has an appeal that is insightful and universal.
The detail in Shaun Tan's drawings – and the fragments of sentences – beg children to ask questions, some that are hard to answer. The Red Tree is no exception: a nameless young girl passes, in her imagination, through many dark moments, ultimately finding some hope in the form of a vivid red tree. "The red tree"Tanwrote, "may bloom, but it will also die, so nothing is absolute or definite; there needs to be an accurate reflection of real life, as something that is continuously in search of resolution."
In bringing the book to the stage,Hilary Bellhas adapted its messages into a musical theatre narrative. "In our interpretation, the girl, whom we have called Ava, decides she's not going to leave her room, and while she travels through the book's fabulous landscapes, these are manifestations of how she feels, rather than actual locations."
Bell's sensitive lyrics have been beautifully set to music by Greta Gertler-Gold. She and musicians Ben Fink and Bonnie Stewart are an intricate part of this production, accompanying Ava on her journey, echoing her fears but encouraging her to overcome them. The music is catchy, foot-tapping one moment, just a little scary the next, and is perfect for the voice of recent Victorian College of the Arts graduate Nicola Bowman, who brings to life Shaun Tan's little red-haired girl, for whom "sometimes the day begins with nothing to look forward to".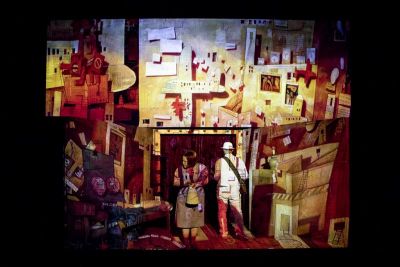 Bowman finds the child in Ava: hiding under blanket at times, venturing out at others; finding solace in a snail that "has come through the window"; or a paper boat in which she can sail away. As she sings, her face expresses the confusion of dealing with emotions such as anxiety, humiliation, alienation, loneliness that hide, more often than we realise, in the minds of children.
Behind her, James Browne's set brilliantly brings a third dimension to Tan's pictures. Real and projected red leaves pick up the symbol of hope that permeates the book as her bedroom transforms to a "world that is a deaf machine without sense or reason". A giant fish with popping eyes swims above city streets, then in a rolling sea and eventually swallows her and threatens to digest her unless she can throw a throw an odd number on a huge dice that bounces beside her in his belly.
Lighting by Verity Hampson creates moments of perceived fear, dark despair – and the brightness of hope as the red tree materializes out of the dressing table – "right there in front of you, bright and vivid, quietly waiting just as you imagined it would be."
Loyal to Tan's insights into the inner world of the child, and to his own concerns as a father, director Neil Gooding's vision reaches to the parent as well as the child. His direction has the same gentle touch with which all the creative have approached this perceptive work. Together with Tan, they have allowed Ava to pass through many dark moments to find something hopeful at the end of her journey.
Carol Wimmer
Photographer: Noni Carroll