Reefer Madness
Book, Music and lyrics by Dan Studney and Kevin Murphy. RL Productions. Directed by Stephen Wheat. Chapel off Chapel. 25th November – 4th December, 2016
Reefer Madness may not be the best musical ever written, but it is quite possibly the funniest. Inspired by the deathly serious, church backed, film of 1936 on the perils of Marijuana, it's a marvellous satirical melange…or perhaps a blancmange: guaranteed to send you right round the twist into lunacy! (The drug and the show.)
Thanks to the wittily innovative and wildly camp direction of Stephen Wheat; a sensational lead performance by James Cutler; a great supporting cast and fabulous choreography, this is the most fun you can have without actually being stoned.
Wheat, himself a fine performer, has decided to go for broke in a show that is already totally over the top. His partner in crime is James Cutler – also a terrific director as well as performer. He plays the narrator, and various other roles with such finesse and style that he totally surpasses the material itself, which is often not especially good, just good fun.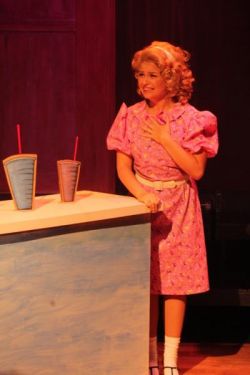 It's to the credit of both that there's so much original comedy "business", and every potential laugh is fully realised.
The amazing Rosa McCarty is a legend in community theatre and has also impressed us on the professional stage. Here she is in her element as the abused girlfriend of "drug pusher" Jared Bryan, who manages to excel in every role he plays. McCarty's belting voice makes the big ballads sound better than they are, and her slightly OTT expressions and gestures are priceless…pure burlesque. Bryan always has great presence and is a fabulous triple threat, with a chance to do a dance number in the show. He's a major asset to the production.
Young leads Ben Adams (Jimmy Harper) and Grace O'Connell Clancy ( Mary Lane - whose name is easily confused with Mary Jane) are delightful as the two wide –eyed innocents who fall from grace into depravity because of the dreaded weed, and Phoebe Coupe is hilarious as the junkie mum who hasn't even named her baby. Ed Deganos is equally mind boggling as Jesus in a white suit. The ensemble are all excellent in the musical routines and shine in various cameos. Yvette Lee's choreography is tight and wildly imaginative, covering dance styles from the thirties through to the 80's. Let's face it, who doesn't love a little bit of "Thriller" done by Zombies? Lee's work is truly impressive and makes great use of the limited space.
David Wisken leads a great band, though sometimes the sound levels are a little intrusive. It's a shame that there were a few glitches with sound on opening night, but Jason Bovaird's awesome lighting couldn't be marred, even by the follow spot operator who seemed incapable of hitting the cues, often leaving the cardboard scrawled morality taglines in darkness.
Minor glitches aside, this is a triumph for RL Productions. It's just a pity the season is so short….it is perfect holiday season fare. You'll need to see it twice because the first time you'll be laughing too hard to take everything in.
Coral Drouyn