Reference Material
Directed and choreographed by Alisdair Macindoe. Darebin Arts Speakeasy, Northcote Town Hall Arts Centre. 14 - 24 April, 2021.
The nature of Reference Material is undoubtedly informative and pedagogical, as the title of the show suggests. This new contemporary dance show ventures into unexpected territory in terms of performance; almost the entire show is accompanied by a running commentary delivered by the performers while they are dancing.
The self-reflexive nature of this commentary reveals the creative and technical choices involved in the choreography and exposes these thought processes with wit and humour. The effect is quite astonishing, especially because it exhibits an unashamed ability of the artists to simply laugh at themselves.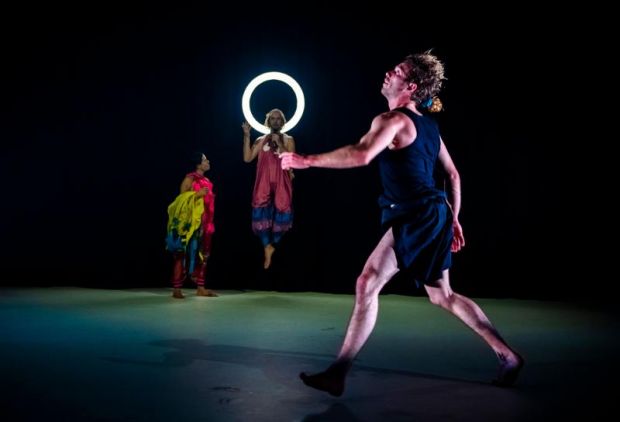 Two of the three dancers, Rachel Coulson and Harrison Ritchie-Jones, open the show which immediately sets itself apart with striking lighting and colourful costuming. This gives the performance an air of boldness that is reiterated via the voice-over. The density of information and the often-pretentious tone immediately suggest that this commentary should not be taken too seriously, despite being an excellent exposé of the thought process and the long, rich cultural history that underpins such work. This also reveals a process that can be as twisted as it is informative.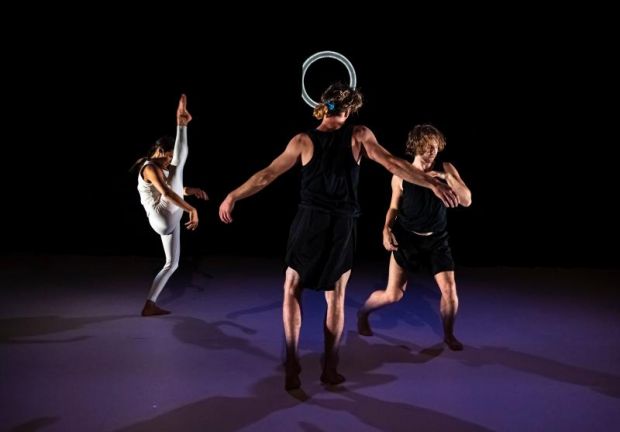 The third dancer, Geoffrey Watson, makes an incredibly surprising grand entrance, that is quite breathtaking. The show shifts gear and passes the commentary mantle back and forth among the performers, maintaining its biting wit while subtly increasing its acerbic quality. The effect is both thrilling and sublime. The dancers deliver a challenging text, frequently in unison, while performing complex and physically demanding dance movements. The show employs costuming which at times puts the dancer's body under a microscope or, in sharp contrast, employs the flow of fabric and colour to distract from their bodies. This interesting use of costuming often enhances the abstract nature of the movement.
Reference Material is a vibrant and innovative dance performance that takes an extremely novel approach to staging and delivery. Moreover, it is performed in a space that is able to indulge the unusual and fresh perspectives that the show offers.
Patricia Di Risio
Photographer: Gregory Lorenzutti