The Removalists
By David Williamson. New Theatre, Newtown, NSW. 20 April - 22 May, 2021
Fifty years on, and still argued to be his best play, David Williamson's The Removalists is here given a wickedly funny yet violent production by Johann Walraven at the New.
The director is blessed by Laurence Coy's outstanding performance as the relentlessly bullying Sergeant Simmonds, a bull engine of spite and moral platitudes. His victim from start to climatic finish is young Constable Ross (an inventive Lloyd Allison-Young), fresh from training school, but the arrival at the station of the two sisters brings fresh meat.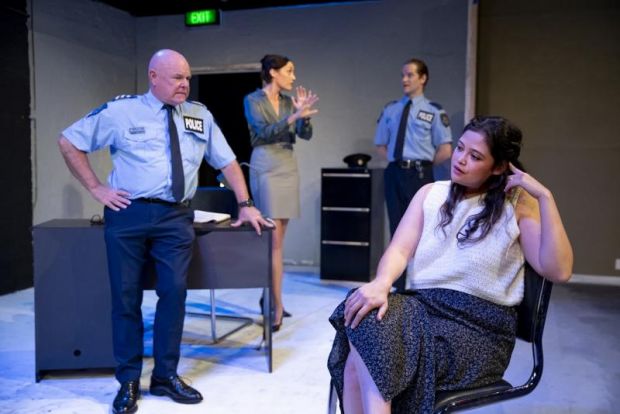 Prompted by her socially aspiring sister, Kate (Shannon Ryan), Fiona (Eliza Nicholls) is reporting a domestic assault and planning escape. Simmonds smells opportunity.
Armed with a removalist (a laconic Xavier Coy, indifferent to all but making money), the cops drop by to Fiona's flat and end up bashing her husband Kenny (an insolent if resilient Alfie Gledhill). Williamson edges up the tension perfectly, the language ever more vile, the violence more brutal.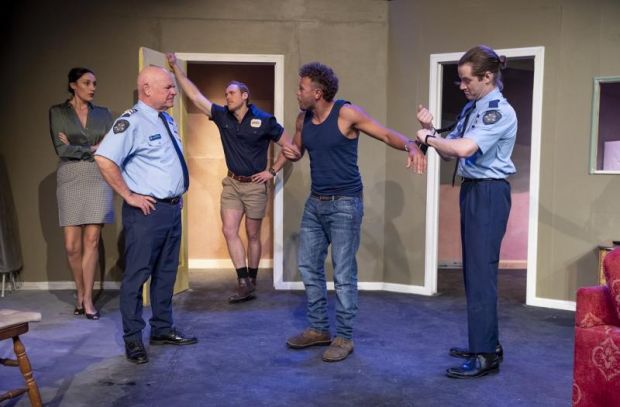 Somehow we laugh and gasp at even the sexual taunts of the women; Walraven's actors, perhaps deliberately, shout over their final shaming misogyny and the women, wrongly, don't face the full blast. Fiona's remaining contradictory affection for Kenny is not well-profiled but, sadly, the play is remarkably undated.
Robyn Arthur's unadorned set, cop shop one side, the flat the other, is simply functional. But minor qualms are swept away by top performances and such authentic violence (Tim Dashwood as fight director), climaxing with echoes of George Floyd.
Martin Portus
Photographer: © Bob Seary for New Theatre