RENT
By Jonathan Larson. Sydney Opera House, in association with LPD and Sugary Rum Productions. Drama Theatre, Sydney Opera House. Until January 31, 2021.
With its potent tale of love and diversity, amidst New York's impoverished yet still vibrant arts community living with the HIV/AIDS epidemic, 1990s rock musical RENT resonates powerfully today.
Baring the Drama Theatre stage to a black box - with a split-level podium as the central playing area, flanked by the almost obligatory moveable skeletal staircases and bridge - Dan Barber's set design evokes urban decay. Unmatched chairs are strewn like kerbside detritus.
Lighting design by Trent Suidgeest casts a further pall of grunge over the set, but that grimness then serves to highlight numerous delightful flashes of lighting and design magic (which I refuse to spoil).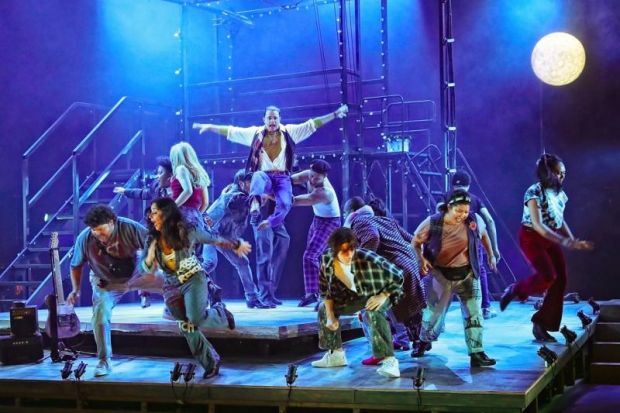 Ella Butler's costumes embrace a strong credible sense of the characters, illuminating their lives, be it their poverty, dignity, sexuality, occasional affluence or creativity.
In a strong ensemble cast, Monique Sallé and Elenoa Rokobaro's pairing as Maureen and Joanne leapt out in my note-making on the train afterwards. Their duet 'Love Me or Leave Me' was unstable sexual TNT. Their vocal chemistry, likewise, was dynamite. And, while I've seen many vastly entertaining variations on Maureen's protest performance piece 'Over the Moon' in previous versions of RENT, Sallé's take on it has to be experienced to be believed.
Mia Morrissey's Mimi captures the role's essential blend of sensuality and vulnerability touchingly, while her voice soars to rock goddess heights, then delicately touches the heart. The dynamic of her on/off relationship with (cliché alert) brooding would-be singer and songwriter Roger - Robert Tripolino - genuinely works. Tripolino's vocals have potential future rock-star credibility, while he also lands the quieter sentiment and introspection of his songs.
Seann Miley Moore's cheeky, unconditionally loving Angel is this RENT's flamboyant heart of gold. Partnered with Callum Francis' steadfast, centred Collins, they totally nail their tender, powerful story of love in a time of adversity and diversity.
Tim Omaji's Benny convinces two-dimensionally as the former friend, now landlord / bad guy of the musical, representing, as he does, a sell-out to developers and gentrification.
For much of the night, though, I wondered about Mat Verevis' portrayal of film-maker Mark. Too often his hand-held movie camera seems to be a passive, dangling hand-prop rather than actively capturing the events at the core of his role as narrator.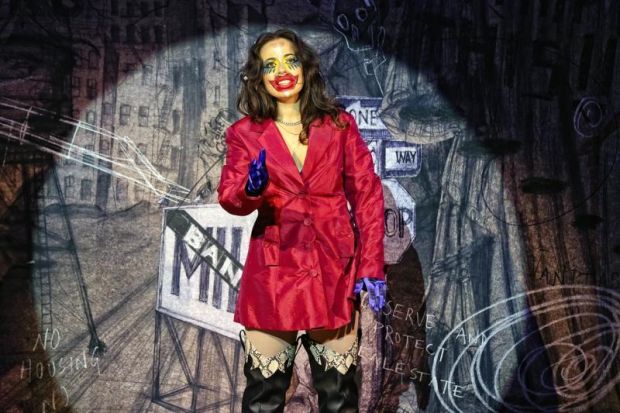 Six ensemble members effectively create the diversity of supporting roles, though Stacey Thomsett's deliciously grating, effervescent Alexi Darling is particularly memorable.
Musical Director Andrew Worboys leads a dynamic five-piece band, which rocks our socks off all night. David Bergman's sound design complements instruments and voices. Some words and lyrics, often lost in the rock ambience of other productions, come across clearly.
I wondered, though, if there were foldback issues on opening night, as a couple of big vocal moments just missed the note.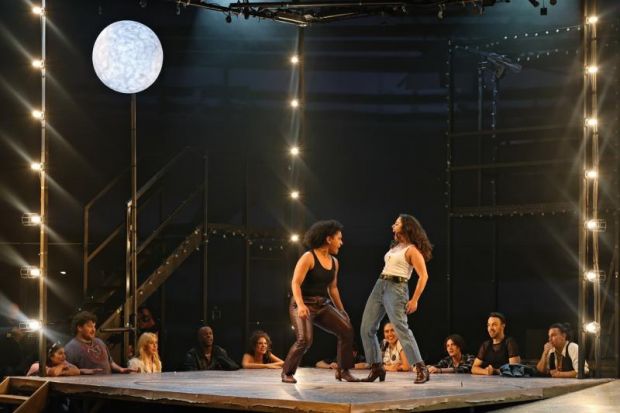 It's well known that creator Jonathan Larson died before the Off-Broadway opening of his contemporary take on La Bohème, leaving behind a wonderful, virtually through-sung score, but a sketchy scenario for this Pulitzer and Tony winner, which casts and directors must flesh out into living characters. Inventive director Shaun Rennie has now successfully taken on this challenge twice, first at the intimate Hayes Theatre Co, and now in this larger theatre, where he offers this clear, vivid interpretation.
At the Hayes Rennie's cast lured us back into the theatre with a glorious acapella version of the show's anthemic 'Seasons of Love', which initially dazzled us in the foyer. That just isn't possible thanks to social distancing, so the cast treat us to an entirely new musical transition from our drinks and chat, back to their story (but no spoilers here).
There's never been a better moment for RENT to return.
Neil Litchfield
Photographer: Prudence Upton