RENT
By Jonathan Larson. Shire Music Theatre, Sutherland Memorial School of Arts. November 30 – December 9, 2012.
While there seemed to be a good production of rock musical RENT happening on stage, it wasn't until after interval on opening night that audience members got the full experience.
But please read on past the next two pars, as an unhappy beginning led to a much more positive conclusion.
Up until interval the sound mix failed the singers when the orchestrations called for (as they frequently do) a full-on rock sound. It wasn't that the band was deafening; no ringing ear-drums; they sounded just about right for a rock musical, and they did good service to the score. With the sound desk in a glass-enclosed bio-box, however, the operator seemed oblivious to the issues. I'm guessing that half-time complaints helped effect the necessary adjustment in Act 2.
It's the big drawback of reviewing amateur productions on opening night, after minimal tech rehearsals. I've heard that the sound issue was fixed by second night. My big concern was for one young performer who seemed to be forcing her voice.
So, on with the positives.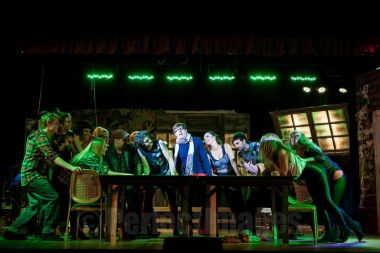 Shire Music Theatre's effective single set and costuming were evocatively grungy. There was a good energy about the performances, and the telephone messaging by parents and others (often a real weakness) was particularly clearly delivered and characterized by performers of substantial experience. Many members of the excellent ensemble were, in fact, experienced principals. Numbers with quieter musical accompaniment revealed excellent voices, while big ensemble numbers had sufficient energy and vocal power to work.
A note to Daniel O'Connell, playing the film-maker Mark; please be much more aware of your camera and exactly what you are pretending to film.
Act 2 opens with the iconic 'Seasons of Love', and from the outset the sound frustrations of Act 1 were gone. Subsequently, when Chiz Watson and Kerstyn Walsh launched into 'Take Me or Leave Me' we finally got the big passionate rock number I had been waiting for all night, with strong, driving vocals. Shortly afterwards Claire Duffy and Chris Malliate delivered a moving rendition of 'Without You', and the show was back on a sound footing.
Johnny Acosta was a warm and credible Collins. Sam Larielle's Angel was a little less out-there than others I've seen, but nevertheless a sympathetic portrayal. The nightmarish scene surrounding Angel's final illness was striking and original.
On another technical note, the designer needed to pay more attention to the fact that part the set would become a surface for projection when Mark's film is finally screened.
With sound issues resolved, this promises to be an enjoyable production.
Neil Litchfield
Images: Grant Leslie, Perfect Images