Return to Earth
HOTA – Home of the Arts, Gold Coast. Directed by Gavin Webber. Music by Guy Webster. Oct 10th, 2020
Live theatre is back - it's only a trickle at the moment, but one lives for the day when the dam bursts and there is more on offer than we can possibly fit. Meanwhile the trickle is inviting to every parched theatre-goer.
QPAC in Brisbane has already announced its coming live programmes and Home Of The Arts (HOTA) on the Gold Coast has managed to keep live theatre going in limited forms and embrace all art forms in the process.
Return to Earth is the brain-child of Gavin Webber, co-founder of the internationally acclaimed theatre company The Farm. The show is incorporated into the "Wonder" Festival, which is based around the art installation "Gaia".
Gaia is the personification of the Earth in Greek Mythology. Created by UK multidisciplinary artist Luke Jerram, Gaia measures seven metres in diameter and combines 120dpi detailed NASA imagery of the Earth's surface. It's a compelling sight, suspended from the partial roof of the new Amphi-theatre, with the stage behind it and the skyscrapers of Surfers Paradise as a backdrop. It stretches concepts of space and time and, with specially made surround sound composition by BAFTA award-winning composer Dan Jones, and snippets of important speeches from David Attenborough, the moon landing control room, and lauded examples of the importance of climate change, Gaia is an entertainment in itself.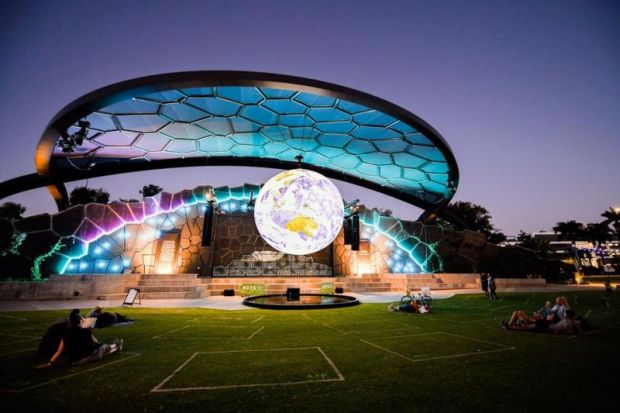 Although the art installation tends to overshadow and upstage anything around it, Webber has devised a multicultural melange of music and movement loaded with prescient warnings of the fragility that Gaia…Mother Earth…faces.
I am an unabashed fan of Webber's work on every level, but some of his vision was thwarted by the venue itself, brilliant though it is.
I cannot imagine, when Gavin was blocking the dancers and movement, that he was aware that the ugly black box containing lighting and sound boards, would block the sightlines for the audience. We missed so much of the action that took place on the flat and that's a great pity.
Having said that, there was still much to enjoy. The Farm, as always, offered an enormously entertaining vignette; Aarti Bajaj offered incredibly graceful Indian dance, though much of it did go unseen when she was beside the lake (yes, there was water which I did not see…although I heard a splash once). The story that accompanied her mystical movements needed some rewriting to make it more poetic, and perhaps a more expressive voice to add to the mystique. Indigenous artist Thomas E.S Kelly connected brilliantly with the audience and it is always a thrill to see Kayah Guenther – a Down Syndrome dancer who refuses to accept any limitations – this time with his sister Maitreyah. There were dancers galore, circus from Circa Zoo, and an excellent choir under the direction of Antony Zambolt, which incorporated the excellent HOTA Kids Imagine. Guy Webster's original music melded well with Dan Jones' Gaia score and the sound and lighting were, for the most part, excellent.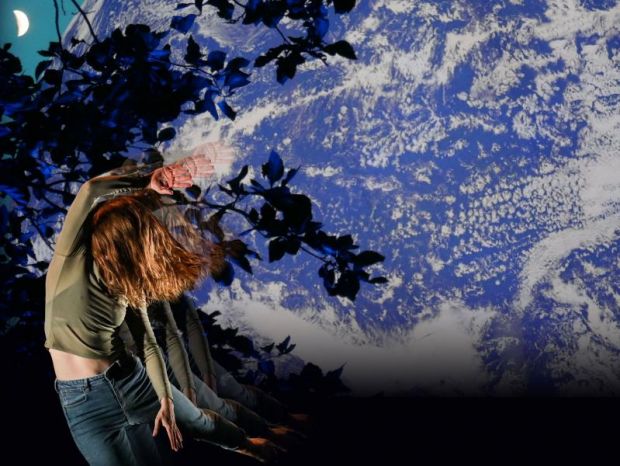 But for me, the most moving an enlightening performance came from Tenzin Choegyal, whose Tibetan music and chanting seemed connected by a silver cord to Gaia herself. The poignancy of his work said more about the fragility of the only earth we have, than a dozen climate change experts could ever do.
Special mention must be made of HOTA itself for its brilliant arrangements for isolating the audience seamlessly by selling not seats, but squares of land seating between 1-4 people, each suitably socially distanced. Add to this a gourmet hamper from The Lawn Bar, and a glass of Bubbles and it's hard to think of a lovelier way to spend an evening.
Coral Drouyn