Roald Dahl's Revolting Rhymes and Dirty Beasts
Adapted for the stage by Shake & Stir Theatre Company. Directed by Ross Balbuziente. Roundhouse Theatre, Brisbane. 4 – 11 July 2015.
There is nothing better than hearing a theatre full of children laughing. Wait! Yes there is. It's a theatre full of adults and children all laughing together at the same things. And that is precisely what you get with Shake & Stir and La Boite Theatre Company's co-production of Roald Dahl's Revolting Rhymes and Dirty Beasts. This production has just returned to Brisbane for a school holiday season as part of a national tour, which sees them perform up and down the east coast of Australia.
Revolting Rhymes and Dirty Beasts is author Roald Dahl's twisted take on some of history's most famous fairytales, as they get mashed up and mixed up with slightly sinister outcomes. The dynamic Shake & Stir creative team of Ross Balbuziente, NickSkubij and Nelle Lee, know exactly how to win over an audience with their clever adaptations of existing literary works, for both children and adults alike.
The stories of Cinderella, Snow White, Goldilocks, Three Little Pigs and Jack and The Beanstalk, all get the delightfully devilish Dahl touch. However, not all of these tales have a happy ending - the famous fairytale wolf from Red Riding Hood and Three Little Pigs gets his long overdue comeuppance.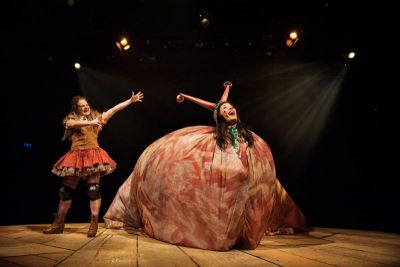 The production features an incredible multi-skilled cast with Judy Hainsworth, Leon Cain, Nick Skubij and Nelle Lee, who all have impeccable comic timing. Hilarity ensues as these four performers play a variety of fairytale favourites with gusto, changing from one character to the next in the blink of an eye.
Director Ross Balbuziente has put together a dream team of creatives. Josh McIntosh's revolving set is both practical and fun, filled of a variety of trap doors for instant entrances and even quicker exits.Jason Glenwright has created a moody lighting design that transports us into the grimm (and Grimm) world of these characters. Sound Designer Guy Webster absolutely gets it right on every level, with a great underscore punctuated by techno funk hits and a variety of well placed sound effects (jncluding ubiquitous farts and burps – sounds guaranteed to make every child laugh hysterically) which all add to the mayhem.
The show is slick, silly, clever and funny - and the pace never stops for a minute. Revolting Rhymes & Dirty Beasts is so much more than just perfect school holiday entertainment – it is pure entertainment!
Paul Dellit