Rhonda Burchmore on Broadway
With the Queensland Pops Orchestra conducted by Patrick Pickett. Concert Hall, QPAC. 13 August 2016.
Swathed in a different jewel-encrusted evening gown at every entrance, the statuesque and long-legged Rhonda Burchmore brought glamour and whole lot of show-business savvy to this Queensland Pops concert.
Using her trademarked belt on Sondheim's "Broadway Baby" and Chicago's "All That Jazz", she pushed her vocal chords to the max on Funny Girl's "Don't Rain On My Parade" and Lloyd Webber's "Don't Cry For Me Argentina". She got laughs on "Diamonds are a Girl's Best Friend" and crooned a mix of "When You Wish Upon a Star" and "Over the Rainbow" to good effect.
If her performance was more cabaret than Broadway it didn't seem to worry the audience who lapped up her folksy patter and vivacious vibe.
Burchmore brought years of experience to yesterday's concert, but it was the students from Griffith University's Musical Theatre program who gave it youthful energy and a raw edge.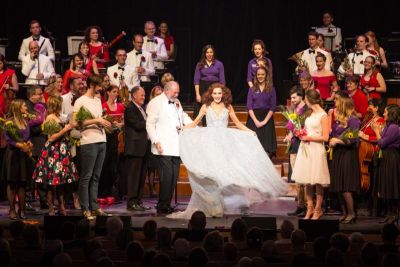 They opened the show with a stunning version of Jason Robert Brown's "The New World" and closed it with an even more impressive "Tonight" Quintet from West Side Story. In between they offered solos and duets from Miss Saigon, Chess, Les Misérables and Aspects of Love, with the best performances being delivered by Tom Armstrong-Robley on "Stars" and Hayden Rodgers' impassioned take of Jekyll & Hyde's "This Is the Moment".
But the third star of yesterday's show was the orchestra under the bravura baton of Patrick Pickett. They attacked the material with brio, accompanied with skill, and when it came time for them to claim the spotlight they gloriously waved their own flag. For Gershwin's "Strike Up the Band" we were back in MGM-land in a Tommy Tycho arrangement that would have done the studio's great arranging icon Conrad Salinger proud. A Chicago medley had them donning red bowler hats and getting into the mood of the period, whilst A Chorus Line sounded as fresh and exciting as when it first opened on Broadway. As always, Pickett was a genial host.
With the entire company of over 100 on-stage at the finale singing Peter Allen's "I Still Call Australia Home", patriotic sentiment mixed with genuine lump-in-the-throat emotion for a thrilling climax.
Peter Pinne