Richard III
By William Shakespeare. Hobart Repertory Theatre Society. The Playhouse Theatre, Hobart Director: Andrew Casey. October 21 – November 5, 2011
Shakespeare buffs don't like their Richard to be messed with, especially attempts to give this classic a modern take. The Hobart Repertory Theatre Society production of Richard III is subtly now-time, without being year-obvious. Director Andrew Casey knows his subject and how to use modern theatre technology to perfection. Richard is a thoroughly unlikeable character, and says so from his first engaging moment on stage. He is usually overplayed and sometimes his deformity becomes the only reason for his behaviour. In Casey's version, the quality of acting of Chris Hamley [Richard] was brilliantly believable. Hamley portrayed just enough of the deformed misfit without cliché or stereotype. Diction is paramount in this wordy play. Hamley proclaimed, shouted, roared, lisped and whispered, leaving no doubt as to his understanding of the role and his ability to project.
Andrew Casey is a wonderful director. His decision to cut the play by over an hour aided audience understanding. Minimalist set design also hastened the pace. The stage was extended over the orchestra pit with a trap door included, to dispose of the dispatched bodies. Richard 111 is a violent and bloody play. Neither pussy-footing around the violence, nor gratuitous, Andrew Casey, himself a nimble and athletic actor, knows the importance of choreography in fight scenes.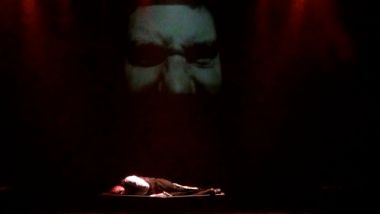 Casting decisions were important to the overall effect: Katherine Noonan as the galloping Catesby struck a believably menacing figure, as well as keeping the pace rolling. Wearing a long black leather coat, mini skirt and boots, she came across as an Emma Peel dominatrix type, perfectly conveying the menace of political intrigue. Karen Kluss [Queen Elizabeth] was brilliant as the widow grieving for her murdered husband, anxious for the fate of her two sons, and protective for the safety of her daughter. Kluss conveyed the compassion and courage of the Queen in those uncertain political times.
Noreen Le Mottee [Queen Margaret] showed yet again that intelligent acting and understanding of Shakespeare are essential to carry off the themes and convoluted plot lines of this play. Experience will out!
The lighting design by Ian Williams, use of strong, menacing-sounding music, surtitles and beautiful modern-styled costumes carried the play, making the time setting unimportant. "Prithee, never have I enjoyed Shakespeare so well!"
Merlene Abbott
To keep up with the latest news and reviews at Stage Whispers, click here to like us on Facebook, or follow us on Twitter.