Richard III
By William Shakespeare. Ensemble Theatre, Sydney. Director: Mark Kilmurry. 24 June – 19 July, 2014
Shakespeare has been banned but there's a secret society dedicated to performing Richard III in a locked warehouse guarded by CCTV cameras. That's the premise of Mark Kilmurry's claustrophobic Ensemble production, mounted to celebrate the Bard's 450th birthday. The multitalented Kilmurry, co-Artistic Director of the theatre, also plays the bloodthirsty super-villain and, I assume, designed the setting (nobody gets the credit in the program).
Via an onstage CCTV monitor, we watch six furtive actors arrive and silently prepare for the ritual. Occasionally we hear sirens passing by and helicopters flying overhead: the actors freeze before continuing their performance. It's unclear for whom they are staging their production or how often they do it or whether it's only Richard III they ever do.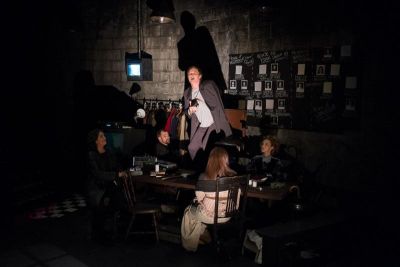 These questions aside, it's a vigorous, swiftly moving and highly entertaining production that we oversee. With Kilmurry's skipping despot at its centre, and with Patrick Dickson's upright Buckingham by his side (until, of course, he is double-crossed and slaughtered with the rest), all the other many parts — regardless of age or sex — are shared between Danielle Carter, Matt Edgerton, Amy Matthews and Toni Scanlan.
This must work better for audience members with some knowledge of who's-related-to-whom. But you soon get the awful drift of Crookback's personality disorder and insatiable lust for power: he's very bad news for absolutely everyone. Kilmurry has a fine old time with a hump, withered hand, splayed legs and more than a touch of Rowan Atkinson's Bean/Blackadder. His full-length pratfall as he first attempts to mount the throne is a highlight.
The splendid cast doubles and trebles away. I particularly enjoyed Matt Edgerton playing villainous henchmen Ratcliff and Catesby simultaneously.
Frank Hatherley
Images: Patrick Dickson, Danielle Carter and Mark Kilmurry & The cast of Richard III, Toni Scanlan, Matt Edgerton, Mark Kilmurry, and Danielle Carter. Photographer: Clare Hawley.
Our Video of the Ensemble Theatre's Richard III