Rising
Ensemble Trivium. Old Government House, Brisbane. 15 October, 2021
Brisbane's thriving classical music scene continued this week with an interesting programme of pieces for string quartet and flute by Ensemble Trivium - Monika Koerner (flute), Natsuko Yashimoto (violin), Anne Horton (violin), Yoko Okayasu (viola) and Katherine Philp (cello). These talented musicians are also principal players with interstate and international experience, and currently perform in Brisbane for the Queensland Symphony Orchestra, Camerata, Queensland Pops Orchestra, Kurilpa Quartet, Lunaire Collective, and Southern Cross Soloists. Among other group collaborations, Katherine Philp also works with Tibetan Singer and Instrumentalist Tenzin Choegyal.
So, this is a really interesting group of musicians and the ensemble specialises in unearthing hidden musical gems. For RISING, artistic director of the Ensemble, Monika Koerner, has put together a programme highlighting the contribution across the last century of three female composers: Amy Beach, Caroline Shaw and Joan Tower. Born in 1867, Beach is America's first successful female composer, and her life would make a wonderful biopic. Her marriage at the age of 18 to a doctor 24 years older restricted her creative output for 25 years. But, after her husband's death she was able to resume her performing career. The opening piece, 'Theme and Variations op. 80' (composed in 1916) was a great introduction to Beach's work and reflected her New Hampshire surrounds, as well as an interesting influence of Native American sounds. The string quartet were able to work together to weave images that, for me, reflected vast landscapes and colourful scenes of nature, with Koerner's brilliant flute adding autumnal leaves, memories and emotions.
Photo by Jiriki Photography.
The middle piece by the very modern New York based Caroline Shaw (born in 1982 and the youngest recipient of the Pulitzer Prize for music in 2012) was 'Entr'acte for string quartet' which was energetic and engaging and tackled with enthusiasm by the quartet. I'm yet to be convinced by Shaw's penchant for making her musicians scratch at strings and play so silently at times that you strain to hear, but the work is certainly textured and intriguing. It's not surprising to learn that the composer has worked on film themes and collaborated with pop music figures such as Kanye West, The National and Arcade Fire. And this particular quartet for me was the perfect introduction to Shaw's style.
The final piece, 'Rising' by Grammy-winning New Yorker, Joan Tower, was a wise choice to close the performance. Tower has been described as one of the most successful woman composers of all time. Now in her 80s, Tower is still active in the New York Arts scene. 'Rising' was written in 2009. It is also a cinematic piece that builds to a climactic ending, giving all the instruments their place in the spotlight.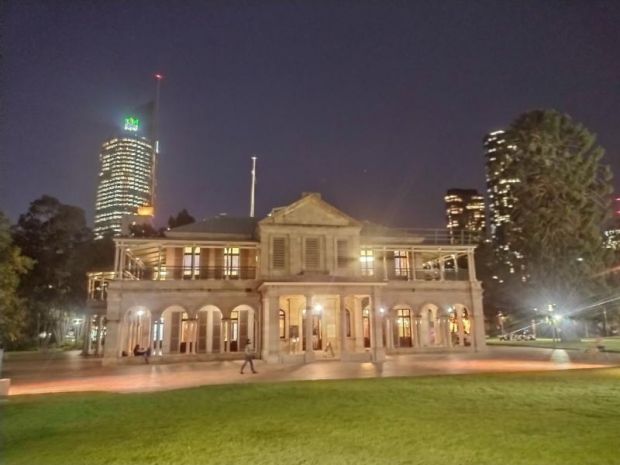 This concert was in a small room at Old Government House (newly renovated and open to the public in a rejuvenated and lively student precinct at the Queensland University of Technology). This venue was perfect, allowing an intimacy not available in a symphony orchestra performance. It is brilliant to be able to be close to the musicians and see them communicate with one another on the stage, with small cues, nods and movements that show their craft and practice. It is certainly a treat to see this group up close and in action.
Ensemble Trivium play next at Monteville on 17 October and the Brisbane gig will be streamed online on 20 October to worldwide audiences.
Beth Keehn