Roald Dahl's James and the Giant Peach
Adapted by Richard George. Art in Motion Theatre (AIM). Directed by Hannah-Jade Keppler and Blair Louis. City of Gosnells Don Russell Performing Arts Centre, Thornlie WA. Apr 15-17, 2021
Art in Motion Theatre (AIM) billed this sweet little show as "a play for kids by kids", and this school holiday entertainment not only featured a cast of only kids, but was directed and crewed by children and teens. While we have seen productions in YouthFest do this (and do very well), to my knowledge this is the first time we have seen kids do this in a 'main-stage' production.
A predominantly youthful audience responded very well to the show, which ran just under an hour - perfect for wriggly little bodies. Simply staged and costumed - there were some very clever staging ideas - especially the lounge chair, which when spun became the top of the giant peach. Great creativity that embraced the budget restraints and just one of many strengths from young directors Hannah-Jade Keppler and Blair Louis.
Friendly, relatable narration from Aliyah Lockwood set us off on this imaginative journey, with a young cast led by a strong central performance by Denver Havercroft - very likeable and believable as James.
We meet a lovely group of eccentric characters within the peach. Laurelle McClure gives a strong and authoritative performance as Centipede, playing particularly well against Elouise Keppler as the beautifully over-dramatic pessimistic Earthworm. They are supported with lovely teamwork and likeable performances from Emily Sweeney (Spider), Savannah Darr (Old Green Grasshopper), Charlotte Sampson (Ladybird) and Monique Lyra (Glow Worm).
Our human characters were beautifully bizarre, with a team of performers creating multiple roles, including Isabelle Lyra and Asha Kopa's good teamwork as Aunts Sponge and Spiker, Edwin Uhlenberg's nicely distinct Father, Old Man and Captain and Kaylee Walton's Mother. There was also a group of Hail Clouds (including Shianne Bugejc), who were strangely generous to the audience, hurling lollies instead of ice.
The young team backstage seem to have been capable and efficient, with Stage Management ably handled by Gemma Wright, supported by Kate Wright on props and Lucy Wright as crew. Makeup was by Andrew McKenna. Well done to all of the young company and their adult mentor Lys Tickner.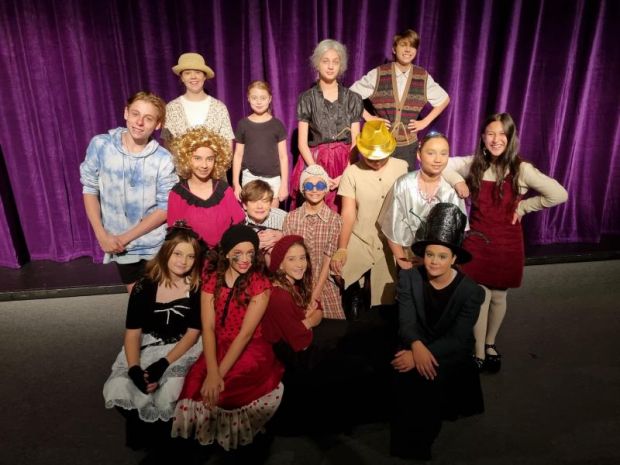 Thanks AIM for this school holiday treat and for taking a chance on and nurturing the next generation of actors, directors, crew and creatives
Kimberley Shaw