Romeo and Juliet
By William Shakespeare. Melbourne Shakespeare Company. The Rose Garden, St. Kilda Botanical Gardens. Dec 6 – 16, 2018
Through the blooming rose garden, tragedy besets the star–crossed lovers in Melbourne Shakespeare Company's new production of Romeo and Juliet. Set within the botanical gardens in reputable St Kilda, rival gangs and cantankerous family feuds create havoc for the budding romantic pair.
The scene is set in the 'Gatsby' (1920s) era - music, joyous laughter - there is not a whisper of looming tragedy, just lashings of slapstick and buffoonery. Shakespeare's intentions are clear, he was not penning the greatest love story, he was merely writing a satire of romantic love.
Jennifer Sarah Dean has directed an innovative interpretation that sits comfortably with the text. She offers far-reaching short cuts, that are fragmented and layered with contemporary pop tunes that follow the narrative along with gratuitous modern madcap merriment.
The cast members, robust and full of life, run a-muck through the gardens, while the main action is centered around the gazebo. The Capulets and Montagues have marked their differences, while Prince/Detective (Tref Glare) attempts to cease the riotous revelries on the streets of St Kilda.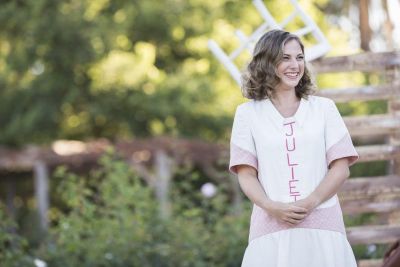 Capulet (Paul Robertson) holds a wild-flapper of a party for his spoilt but sweet young daughter Juliet (Joanna Hallliday). Romeo (Mathew Connell) with his cherub good looks wins over Juliet. Both Connell and Halliday give gentle and understated performances, while Mercutio (Karl Richmond) and Benevolio (Carly Ellis) are the contrasting gritty and fiery catalysts. Tref Gare, who doubles up as the Nurse, is hilarious, winning the crowd over with his/her fumble- bumble performance.
Musical direction is wonderfully orchestrated by Benjamin Colley, along with 'cutesy' dance steps, choreographed by John Reed, who also performs superbly in the role of the insidious Paris. Costumes (Rhiannon Irving) are nostalgic and quirkily name tagged, adding a peculiar touch to this wonderfully entertaining and almost magical show amongst the gorgeous rose garden.
So pack up your picnic baskets, get on board and enjoy the ride.
Flora Georgiou
Images:Burke Photography