Romeo and Juliet
By William Shakespeare. The Australian Shakespeare Company. Artistic Director / Producer: Glenn Elston. Costumes: Karla Erenbots. Musical Director: Paul Norton. Royal Botanic Gardens, Melbourne. 20 Dec, 2012 - 9 Mar, 2013.
After 25 years staging outdoor theatre it seems Glenn Elston is far from giving the game away. And why would he? A Glenn Elston production in the Botanic Gardens is as much part of Melbourne's summer tradition as the Boxing Day test, The Australian Open, free symphony concerts at the Myer Music Bowl and barbecues by the Yarra River.
Anyone who has ever played to an outdoor audience knows the investment in energy required, and the skills of this company ensure we are riveted from the moment Brendan O'Connor and Anthony Rive step out pre-show amongst the picnickers to draw us in.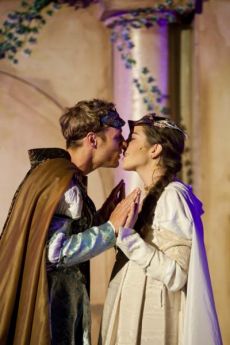 Beautifully executed musical numbers, lush costuming, and simple and faultless sound production ensure the play swings along, with the occasional indulgence of audience participation.
Jamieson Caldwell (Romeo) and Madeleine Field (Juliet) are terrific as the amorous leads, Scott Jackson is a worthy Mercutio as is Natalia Novikova as the infuriating nurse.
I wonder though whether this production is unnecesarily rushed. The contrasts of crass boy-speak should be more stark against the languid longing in the romance scenes. Sometime the pace is just too furious, leaving many of the most beautiful speeches rather brushed over. Yes, this is a lengthy play, but we are happy to be sitting there in the moonlight, and the cast should milk their lines a little more.
The jury is out on whether tragedy works as well in this setting as Shakespeare's comedies, Wind in the Willows or Alice in Wonderland.
Given the record temperatures in Melbourne this summer, packing a picnic and heading to this production seems a very good idea to me.
Lucy Graham
More Reading