Rosencrantz and Guildenstern Are Dead
By Tom Stoppard. Sydney Theatre Company. Sydney Theatre. 6 August to 7 September, 2013.
Two minor characters from Shakespeare's Hamlet, only briefly sketched out as childhood friends of the Prince, wait in confusion to be included in the main play, to be given a back story, a purpose. They are, to paraphrase Pirandello and Beckett, two characters in search of an author, two actors waiting for their own Godot.
Tom Stoppard's first produced play, written while in his mid-twenties, glitters with absurdist puns, word games and philosophical wit, as Ros and Guil flip coins and muse dryly on life's uncertainties. Young Stoppard's nihilistic vision is all super clever cool.
What's riveting about this Simon Phillips production is the added care we feel for these lost foot solders of life, as the tension grows, their predicament darkens and the deadly story of Hamlet unfolds around them.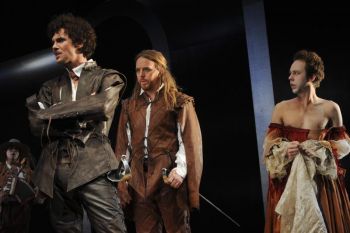 Central to this emotional engagement are the leads: Tim Minchin as the sweet if dim Rosencrantz and Toby Schmitz as a quicksilver and increasingly agonised Guildenstern. Their real life friendship offstage obviously informs their inventive playmaking and physicality onstage, especially as desperation thrusts them closer.
Designer Gabriella Tylesova strands them in a raked stage surrounded by formidable dark arches. The grotesque, courtly characters of Hamlet occasionally strut out, dressed as high Jacobean tragics with a nod to Alice in Wonderland. Tylesova's costuming also works visual wonders with the dispirited actors troupe that wanders through the play in search of an audience.
Leading them is the charismatic Ewen Leslie as the Player, who knows best of all Stoppard's truth that nothing is real. With a uniformly excellent support cast, this is a deliciously entertaining literary showpiece which for all its cleverness still tugs at our heart with forebodings of our mortality.
Martin Portus
Images: Toby Schmitz and Tim Minchin, & Toby Schmitz, Tim Minchin and George Kemp. Photographer Heidrun Lohr.
See more images of the production in our gallery.
Stage Whispers TV interview Toby Schmitz and Tim Minchin, featuring scenes from the production.
.